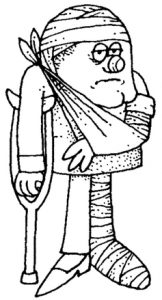 It is not uncommon for injured workers to be terminated from their jobs post-accident. There was a time when Florida law required employers to make every effort within reason to reemploy their injured workers. While that admirable public policy was scrapped some 15 years ago, section 440.205, Florida Statutes does prohibit employers from terminating employees hurt on the job for claiming workers' compensation benefits. However, as a firm that handles wrongful termination cases, we know that proving one from the other can be difficult. Compounding the difficulty is the element of good-cause firings, i.e., justified firings based on conduct, such as excessive absences.
Per section 440.15(4) Florida Statutes (2018), temporary partial disability (TPD) wage loss benefits are due "if the medical conditions resulting from the accident create restrictions on the injured employee's ability to return to work … or an employee returns to work with the restrictions resulting from the accident and is earning wages less than 80 percent of the preinjury average weekly wage." This language has allowed some employees terminated for cause to be entitled to TPD benefits. (Caveat: Not all good-cause terminations are treated alike. Read this blog: Jeffrey P. Gale, P.A. // Florida Workers' Compensation 440.15(4)(e) Termination for Misconduct Law Not Well Understood.)
One of the leading cases on the subject is Stewart v. CRS Rinker Materials Corp., 855 So.2d 1173 (Fla. 1st DCA 2003). The Claimant injured his back on the job in a compensable accident — meaning, an accident accepted by the Employer/Carrier. He returned to work for the Employer, in a modified-duty status to conform to the authorized doctor's recommendations, for approximately three weeks after the accident until the Employer terminated him  for excessive absenteeism (most of which occurred before the accident). For nine of the next eleven months he looked for work but remained unemployed. He also continued under the care of workers' compensation doctors, who imposed work restrictions.