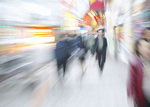 Florida's liability law and workers' compensation systems are cautious about awarding benefits for mental and nervous injuries. The underlying basis for the caution is that allowing recovery for injuries resulting from purely emotional distress would open the floodgates for fictitious or speculative claims. R.J. v. Humana of Florida, Inc., 652 So.2d 360 (Fla.1995).
What has come to be known as the "Impact Rule" requires that "before a plaintiff can recover damages for emotional distress caused by the negligence of another, the emotional distress suffered must flow from physical injuries the plaintiff sustained in an impact.'" See Southern Baptist Hosp. of Fla. v. Welker, 908 So.2d 317 (Fla.2005).
The rule is applied in common law personal injury cases and in workers' compensation cases.
Limited exceptions to the Impact Rule apply in both fields. The common law exceptions have been created by the Florida Supreme Court. See, e.g., Eastern Airlines, Inc. v. King, 557 So.2d 574 (Fla.1990) (recognizing the tort of intentional infliction of emotional distress absent impact); Champion v. Gray, 478 So.2d 17 (Fla.1985) (allowing recovery where plaintiff is in the "sensory perception" of physical injuries sustained by a close family member); Kush v. Lloyd, 616 So.2d 415 (Fla.1992) (finding rule inapplicable to actions for wrongful birth); Tanner v. Hartog, 696 So.2d 705 (Fla.1997) (impact rule does not preclude recovery of non-economic damages for parents of stillborn child); Gracey v. Eaker (impact rule inapplicable for breach of statutory duty of confidentiality to patient); Rowell v. Holt, 850 So.2d 474 (Fla.2003) (impact rule does not preclude recovery for psychological injury due to attorney's negligence).
In short, "[e]xceptions to the rule have been narrowly created and defined in a certain very narrow class of cases in which the foreseeability and gravity of the emotional injury involved, and lack of countervailing policy concerns, have surmounted the policy rationale undergirding application of the impact rule." Id. at 478.
Compare these close-call cases: R.J. v. Humana of Florida, Inc., 652 So.2d 360 (Fla. 1995) (impact rule applies to negligent HIV diagnosis without physical damage), Woodard v. Jupiter Christian School, Inc., 913 So.2d 1188 (Fla. 2005) (impact rule applies to outing student's homosexuality).