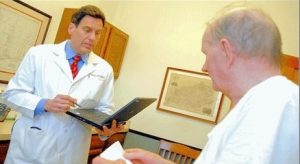 From the perspective of injured workers, I am a frequent critic of Florida's Workers' Compensation System. Of the many inequities built into the System, I reserve my greatest disdain for its rules on the provision of medical care. Essentially, employers and their workers' compensation insurance carriers get to pick all of the treating doctors. Because most of these doctors derive a large percentage of their income from workers' compensation cases, they naturally tend to render opinions favorable to the employers/carriers (E/C). If they don't, they will stop getting workers' compensation cases from the E/C.
The System gives injured workers very little leeway to overcome this built-in bias. Section 440.13(2)(f), Florida Statutes (2019) gives workers an inkling of an opening. The section provides as follows:
Upon the written request of the employee, the carrier shall give the employee the opportunity for one change of physician during the course of treatment for any one accident. Upon the granting of a change of physician, the originally authorized physician in the same specialty as the changed physician shall become deauthorized upon written notification by the employer or carrier. The carrier shall authorize an alternative physician who shall not be professionally affiliated with the previous physician within 5 days after receipt of the request. If the carrier fails to provide a change of physician as requested by the employee, the employee may select the physician and such physician shall be considered authorized if the treatment being provided is compensable and medically necessary. (Bold added for purposes of this blog.)
At best, it is a tiny opportunity. Because Employers/Carriers keep lists of favored doctors, once a "one change" request is made it is easy for them to pick another friendly doctor from a list to assure that the opinions rendered by doctor "B" are just as beneficial to their interests as the opinions given by doctor "A." On rare occasions, the E/C will fail to authorize a physician within the 5 day period outlined in the statute. When this happens, the injured worker (Claimant) can choose his or her own doctor. However, it is not always easy for Claimants to find doctors willing to provide care without a guarantee of being paid. Even though the statute says that "such physician shall be considered authorized," not every doctor is willing to undertake care based just on assurances from the Claimant's attorney. They want pre-authorization from the workers' compensation E/C. Unfortunately, most employers/carriers will not concede their statutory obligation without a fight. Claimants must sometimes waits months for the authorization to come through. Given the seriousness of certain medical conditions, this is not always feasible. Thankfully, our law firm has developed relationships with many fine medical providers who are willing undertake care on our assurances alone knowing we will fight to get them paid.