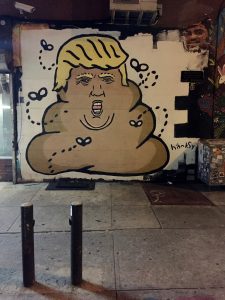 July 25, 2018; Facebook
Russia has broken into our home and Trump wants us to be gracious hosts.
July 25, 2018; Facebook
If honest elections, a free press, and civil rights aren't your priorities, what is it about America that you value?
July 22, 2018; Facebook
Trump v. Putin is like a theatrical WWW phony v. an MMA killer. Making matters worse is that the match is rigged.
July 21, 2018; Facebook
Trump knows that his militant base is very stupid (x 100) and that the moneyed interests are selfish pigs willing to go along, and he believes that the combination of both will keep him afloat. A majority of Americans see him for what he is, but don't have the power now to do anything about it.
I'd rather be powerless than stupid or craven.
July 20, 2018; Facebook
Trump is in free fall and the country is being sucked down in his noxious wake. For more than 20 years he has been the bag man for dirty Russian money. This is how he was able to stay afloat when no U.S. bank would touch him with a 10 foot pole, and it is why he doesn't dare disclose his tax returns and is deathly afraid of Putin (who has all of the dirt on him). This is not revelatory news.
Trump knows his exposure and is becoming unhinged before our eyes. On one side, he is being pursued by the most imposing team of lawyers and investigators ever assembled led by the preeminent law enforcement officer in American history. On the other side he is being squeezed by Putin, the cold-hearted, steely-eyed keeper of his deepest and darkest secrets.
The gig is almost up and Trump knows it. Being a sleezebag for an entire lifetime has its consequences. At some point, the forces of nature catch up to you. In the immortal words of Heavyweight Champion Joe Louis, The Brown Bomber, "You can run, but you can't hide."
Trump, we know where you are and we're coming to get you.
Sweet dreams, Meathead.