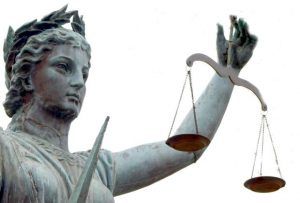 The Seventh Amendment to the United States Constitution provides as follows:
In Suits at common law, where the value in controversy shall exceed twenty dollars, the right of trial by jury shall be preserved, and no fact tried by a jury, shall be otherwise re-examined in any Court of the United States, than according to the rules of the common law.
The first ten amendments to the Constitution are known as the Bill of Rights. They were proposed by James Madison, the fourth president of the United States, in a speech before Congress on June 8, 1789. Here's what he said in that speech about jury trials:
Trial by jury cannot be considered as a natural right, but a right resulting from the social compact which regulates the action of the community, but is as essential to secure the liberty of the people as any one of the pre—existent rights of nature.
The Federalist Society is a conservative American legal organization. Former members include current U.S. Supreme Court justices Brett Kavanaugh, Neil Gorsuch, Clarence Thomas, John Roberts, Samuel Alito, and Amy Coney Barrett. The society's logo is a silhouette of James Madison and its website displays his portrait at the bottom.