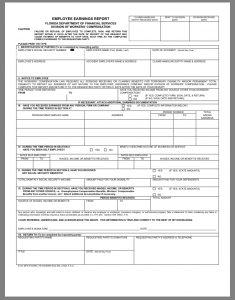 By demonstrating that particular physical restrictions are responsible for lost wages or lack of employment, an employee with functional limitations less than a total disability may be eligible for temporary partial disability benefits (TPD) pursuant to section 440.15(4), Florida Statutes.
The claims-handling entity may impose a further burden by requiring the injured employee to complete, sign, and return Form DFS-F2-DWC-19 within 21 days after receiving it to report all earnings of any nature, including all social security benefits.
In Perdue v. Sebring Marine Ind. Inc., 82 So.3d 816 (Fla. 1st DCA 2011), reh. den. Sept. 3, 2011, the Judge of Compensation Claims (JCC) denied TPD benefits to the claimant on the basis that the injured employee did not submit a DWC-19 Employee Earnings Report in the claim. However, there was no evidence that the employer/carrier had provided the forms to the claimant. The First DCA reversed the JCC's ruling, holding that the employer/carrier has the burden to prove it sent the forms to the claimant.