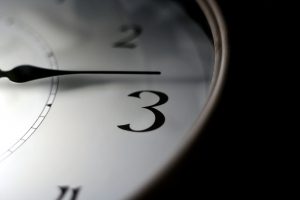 Florida's workers' compensation system has two distinct time bars for filing petitions to seek benefits. Most people are at least vaguely aware of one of the concepts, known as the statute of limitations (SOL). Florida's workers' compensation SOL is enunciated in section 440.19, Florida Statutes.
The other time bar is laid out in Florida Statute 440.185(1), reproduced below:
(1) An employee who suffers an injury arising out of and in the course of employment shall advise his or her employer of the injury within 30 days after the date of or initial manifestation of the injury. Failure to so advise the employer shall bar a petition under this chapter unless:

(a) The employer or the employer's agent had actual knowledge of the injury;

(b) The cause of the injury could not be identified without a medical opinion and the employee advised the employer within 30 days after obtaining a medical opinion indicating that the injury arose out of and in the course of employment;

(c) The employer did not put its employees on notice of the requirements of this section by posting notice pursuant to s. 440.055; or

(d) Exceptional circumstances, outside the scope of paragraph (a) or paragraph (b) justify such failure.
This blog addresses subsection (d).
The statute is often interpreted strictly to the detriment of the injured worker. Accordingly, while there is some room for challenge built into every subsection of the statute, it is nevertheless advisable to err on the side of caution by giving notice [to the employer] whenever practicable within 30 days of  having even the slightest indication a work-related injury may have been sustained.