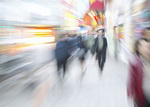 In this day and age of surveillance cameras everywhere, it is not uncommon for premises accidents to be captured on video. For various reasons it is critically important for the plaintiff's attorney to secure a copy of all videos as soon as possible. One of the most important reasons is to enable the victim to recount the accident before giving sworn testimony wholly on memory. Even truthful witnesses can have a shaky grasp of the facts. Time, excitement, injury, uncertainty, nervousness — all can work against an accurate account of a traumatic event.
Once a lawsuit is filed and served, the parties to a premises liability action typically engage in what is known as Discovery. Interrogatories, which are questions answered under oath, and live testimony by deposition are two of the most common discovery vehicles. The mechanism of injury is usually at issue in premises liability cases. How and why did the accident happen?
In Business Telecommunications Services, Inc. v. Elena Madrigal, Case No. 3D18-2106, (Fla. 3rd DCA 2019), the appellant Business Telecommunications Services, Inc. was ordered by the trial court to turn over a surveillance video in advance of the deposition of the plaintiff in a personal injury case. The defendant appealed the court order, relying on cases such as Dodson v. Persell, 390 So. 2d 704 (Fla. 1980). The 3rd DCA decided that such reliance was misplaced, and thus refused to reverse the trial court's order.