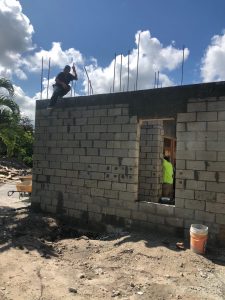 In the interest of public health, safety, and welfare, most construction projects require the services of licensed contractors. See Section 489.101, Florida Statutes. Section 489.103 outlines various exemptions to this public policy. One of the exemptions, contained in 489.101(7)(a), applies to "Owners of property when acting as their own contractor and providing direct, onsite supervision themselves of all work not performed by licensed contractors."
To impress upon owners the significance and consequences of operating as their own contractors without being licensed, the statute contains a 12-part section titled "Disclosure Statement." The owner is required to sign this form for the local permitting agency.
In general, Florida law provides that "[A] property owner who employs an independent contractor to perform work on his property will not be held liable for injuries sustained by the employee of an independent contractor during the performance of that work." Strickland v. TIMCO Aviation Servs., Inc., 66 So. 3d 1002, 1006 (Fla. 1st DCA 2011).
However, just as 489.103 applies an exception to the requirement of using a licensed contractor, it also eliminates the owner's immunity from liability available under the general law when an independent contractor is employed. See Worthington Communities, Inc. v. Mejia, 28 So.3d 79 (Fla. 2nd DCA 2009), Griggs v. Ryder, 625 So.2d 950 (Fla. 1st DCA 1993), and Lewis v. Sims Crane Service, Inc., 498 So.2d 573 (Fla. 3rd DCA 1986), review dismissed, 503 So.2d 327 (Fla. 1987). Moreover, because an "Owner who is also acting as a general contractor 'has the ultimate duty to maintain a construction site in a reasonably safe condition,'" Worthington at 83, this liability does not depend upon the owner's active participation. Lewis at 574. Hence, this is a form of vicarious liability.
Here's a good definition of vicarious liability:
n. sometimes called "imputed liability," attachment of responsibility to a person for harm or damages caused by another person in either a negligence lawsuit or criminal prosecution. Thus, an employer of an employee who injures someone through negligence while in the scope of employment (doing work for the employer) is vicariously liable for damages to the injured person. In most states a participant in a crime (like a hold-up) may be vicariously liable for murder if another member of the group shoots and kills a shopkeeper or policeman.
While owners may save money by not employing a licensed contractor, they'd be well advised to maintain adequate insurance to provide coverage in the event of an accident. Since the owner operating as owner-contractor would be considered the employer of those working on the project, the most practical type of insurance coverage for the owner to maintain is workers' compensation. This coverage should provide immunity to the owner from all other liability, including vicarious liability, to any third-party tortfeasor and to the employee, and anyone otherwise entitled to recover damages from such employer at law or in admiralty on account of injury or death. See section 440.11(1), Florida Statutes.
If the owner/contractor fails to maintain workers' compensation insurance, he or she could be liable for personal injury damages resulting from the negligence of a third party. The type of insurance that would protect the owner/contractor against this exposure is called Liability Insurance.
One would think that the "Disclosure Statement" would key owners into the pitfalls of acting as owner-contractor. While there may be good reasons for being the O-C, there is never a good reason for not being adequately insured against workplace accidents.
Owners should be aware of their exposure. Construction site accidents can be especially serious, oftentimes catastrophic and deadly. Being adequately insured protects them and the victims.
**************************
Contact us at 305-758-4900 or by email to learn your legal rights.
Jeffrey P. Gale, P.A. is a South Florida based law firm committed to the judicial system and to representing and obtaining justice for individuals – the poor, the injured, the forgotten, the voiceless, the defenseless and the damned, and to protecting the rights of such people from corporate and government oppression. We do not represent government, corporations or large business interests.
While prompt resolution of your legal matter is our goal, our approach is fundamentally different. Our clients are "people" and not "cases" or "files." We take the time to build a relationship with our clients, realizing that only through meaningful interaction can we best serve their needs. In this manner, we have been able to best help those requiring legal representation.