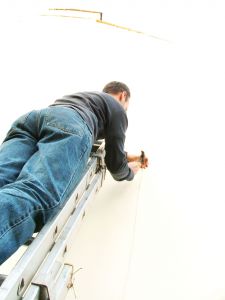 We currently represent an elderly woman who was knocked down in the hallway of her condominium building by a large, unleashed dog. She fell and struck her head on the ground. In the days following the event, she had headaches and was lightheaded. While taking a shower, she fainted. As a result of this event, she was hospitalized then transferred to a facility for a month of rehabilitation. She is now receiving 24/7 attendant care at home.
Are the injuries sustained from the subsequent fall compensable?
Something similar happened in Eli Witt Cigar & Tobacco Co. v. Matatics, 55 So. 2d 549 (Fla. 1951). The Plaintiff/Appellee had suffered a brain concussion and other injuries in a motorcycle accident. Within weeks of the accident, he climbed a ladder to reach his attic. While descending, he suffered a dizzy spell and fell to the concrete floor. His injuries from this fall were permanent and catastrophic — paralysis in his lower and upper extremities.