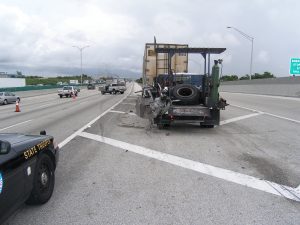 Our firm is presently involved in a personal injury action on behalf of a truck driver who sustained serious injuries when he was struck by a motor vehicle on the side of the northbound lanes of I-95, in an area of the highway known as a gore, while an employee of a roadside assistance company attempted to replace a blown tire on the chassis our client was hauling with his tractor. We have sued the roadside assistance company for failing to display proper warning lights and for undertaking the assistance in a dangerous location. (This photograph shows the assistance vehicle sent to the scene and its location at the time of the crash.) The Defendant has asserted two affirmative defenses in an effort to apportion fault to a non-party. Our co-counsel, superb trial lawyer Robert Tilghman, has prepared a motion for partial summary judgment on the two affirmative defenses. (Reproduced in this blog are portions of the motion. The names of the parties and the non-party have been removed.)
The non-party was the driver of a northbound vehicle that struck our client after first striking the left rear of the vehicle sent to perform the roadside assistance. The parties will never know what caused his vehicle to enter the gore area as he died after the subject accident before he could give a statement. He told fire rescue that he did not remember what happened and there were no eyewitnesses or physical evidence to explain why, when, or how the vehicle entered the gore or why the driver was unable to avoid striking the repair vehicle. We have been able to formulate upwards of twelve reasonable explanations, some of which would not constitute fault on the non-party driver, for the events leading to the collision.
We anticipate that Defendant intends to argue that the non-party driver consumed alcohol prior to the collision and that it was the effect of alcohol which caused the accident. However, Defendant cannot present admissible evidence of his intoxication or that alcohol was a proximate cause of the collision.