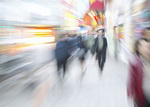 Cell phone related distraction accounts for a great number of motor vehicle crashes. Legislation aimed at curbing these preventable events has been enacted in parts of Europe, Canada, and the United States. Florida remains one of just a handful of states without meaningful legislation designed to curb mobile phone abuse while operating a motor vehicle.
With less fanfare, cell phone distraction has become a leading cause of premises liability accidents. The chances of tripping or slipping and falling on a dangerous condition, such as an uneven surface or foreign substance, is increased by inattention.
Florida law apportions damages in most personal injury cases on the basis of each party's percentage of fault. This includes the injured victim. The concept, contained in section 768.81, Florida Statutes, is known as comparative fault. For example, in most rear-end car crash cases where the lead vehicle is rightfully stopped due to traffic or a road signal, the trailing vehicle is found to be 100% at-fault. However, if it can be established that the lead vehicle stopped suddenly or unexpectedly or that the tail lights of the vehicle did not work, a percentage of fault may be apportioned against the owner or operator of that vehicle. If a jury decides that the owner or operator sustained $100,000 in damages but was 50% at-fault, the judgment in the o/o's favor would be cut in half to $50,000.