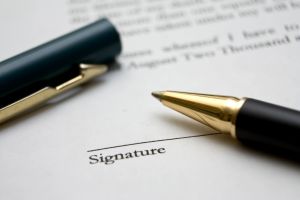 "Ignorance of the law is no defense" is a popular expression. It means that a person will not be excused from punishment for not knowing that particular conduct was against the law.
A similar rule holds true when it comes to written documents: Ignorance of a document's content does not discharge the responsibility of a party to the document.
We are in suit against a homeowner for serious personal injuries sustained by our client from an accident that occurred on the homeowner's property during a construction project. Among the legal theories claimed for holding the homeowner responsible is the breach of his duty created by undertaking the project as the owner-builder.
Typically, only licensed contractors can pull building permits and supervise construction projects in Florida. Florida Statute 489.103 lists exemptions to the rule. Subsection (7)(a)1 allows owners of one-family residences to undertake improvements on the property for their personal use without a licensed contractor. The permit in our case was secured under this exemption.
To obtain the permit under this exemption, the homeowner was required to execute a permit application and a separate "Owner-Builder Disclosure Statement" attesting to his status as the owner-builder on the project. The statute and owner-builder statement advise that the owner-builder assumes ultimate responsibility for the negligence of others working under him on the project.
The landowner hired an unlicensed contractor to supervise the project. The homeowner did not undertake any supervisory role. Our client, a young and inexperienced construction worker, was hurt when he was struck in the face by a metal pole while falling from the top of a ten-foot wall. We sued the unlicensed contractor for failing to properly supervise and provide adequate equipment. We sued the homeowner as being ultimately responsible under the statute and executed documents for the unlicensed contractor's negligence. His defense is that he did not read the documents to know he was applying as the owner-builder with ultimate responsibility.
In 1956, the Supreme Court of Florida, in All Florida Surety Company v. Coker, 88 So.2d 508 (Fla. 1956), confronted a similar defense. Signators to a performance bond attempted to avoid responsibility by claiming "they had neglected to read [the agreements] when presented for their signature." The court rejected the defense. It established the basic rule, summarized as follows in Allied Van Lines, Inc. v. Bratton, 351 So.2d 344 (Fla. 1977):
"Unless one can show facts and circumstances to demonstrate that he was prevented from reading the contract, or that he was induced by statements of the other party to refrain from reading the contract, it is binding. No party to a written contract in this state can defend against its enforcement on the sole ground that he signed it without reading it." (Bold added for emphasis.)
Our legal system does not excuse people for failing to exercise reasonable prudence. Johnson v. Green, 54 So.2d 44, 46 (Fla. 1951).
*********************
Contact us at 305-758-4900 or by email to learn your legal rights.
Jeffrey P. Gale, P.A. is a South Florida based law firm committed to the judicial system and to representing and obtaining justice for individuals – the poor, the injured, the forgotten, the voiceless, the defenseless and the damned, and to protecting the rights of such people from corporate and government oppression. We do not represent government, corporations or large business interests.
While prompt resolution of your legal matter is our goal, our approach is fundamentally different. Our clients are "people" and not "cases" or "files." We take the time to build a relationship with our clients, realizing that only through meaningful interaction can we best serve their needs. In this manner, we have been able to best help those requiring legal representation.
DISCLAIMER: This information provided by Jeffrey P. Gale, P.A. is for informational purposes only and is intended to be used as a non-legal guide prior to consultation with an attorney familiar with your specific legal situation. It should not be considered legal advice or counseling. No such legal advice or counseling is either expressly or impliedly intended. This  information is not a substitute for the advice or counsel of an attorney. If you require legal advice, you should seek the services of an attorney.