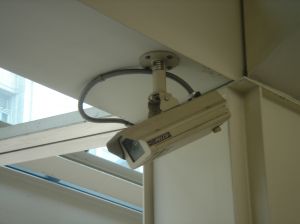 Most business establishments today maintain some form of video surveillance to capture events, including accidents and assaults, that happen in and around their property.
The key to resolving premises liability claims fairly to all concerned — the injured person and the property owner — is by determining fully what happened.
Frequently, the information has been captured by the videotape camera(s).
Since the videotape is always in the hands of the target defendant, shouldn't it always be made available to the plaintiff? The answer is, It depends.
In Osmulski v. Oldsmar Fine Wine, Inc., So.3d , 37 FLW D1578 (Fla. 2nd DCA 6-20-2012), the appellate court ruled that the defendant was not obligated to preserve the videotape of the accident without a request from the plaintiff. It ruled this way even though the defendant knew immediately of the accident and it was reasonably foreseeable the plaintiff would bring a claim to be compensated for her serious wrist injury (which required two surgeries and needed at least one more). By the time the request was made, after pre-suit negotiations had failed, the videotape had been deleted.

Here is the court's reasoning:
We observe that in recent years, the use of digital video technology has significantly increased in our communities. Yet there are many uncertainties regarding this video technology as it relates to the resolution of legal disputes. The recording systems may vary greatly in quality as well as methodology. Some recordings may be erased automatically, and some may be erased manually. Some recordings may not be in the immediate control of the ultimate defendant. The recordings may or may not contain information that is critical to the civil action. Given this myriad of uncertainties, it would not be fair to businesses or homeowners to require them to preserve video evidence in the absence of a written request to do so.
The lesson to be learned from this opinion is to request preservation of all potential videotapes as soon as possible in writing and/or by email on the target defendant through its store manager and risk management department. (Caveat: The opinion makes it questionable whether a preservation request on a liability insurance adjuster alone is sufficient.)
If a timely request is made and videotapes of the accident are discarded or deleted, the plaintiff should be able to obtain a favorable jury instruction either creating a presumption of negligence against the defendant, see, e.g., Pub. Health Trust of Dade Cnty. v. Valcin, 507 So. 2d 596 (Fla. 1987) (adopting rebuttable presumption of negligence where health care provider was unable to produce essential medical records in medical malpractice action), or an inference of negligence, see, e.g., American Hospitality Management Co. of Minnesota v. Hettiger, 904 So. 2d 547, at 549-51 (Fla. 4th DCA 2005) (noting that Valcin involved a statutory duty running from a health care provider to a patient to provide medical records and holding that adverse inference instruction was more appropriate in negligence case involving lost equipment).
The 4th DCA expressed the hope that the legislature would soon take up the issue of videotape preservation. Moreover, in citing language from the Hettiger case, it acknowledged that "it could be argued that in the absence of a written request to preserve such evidence, as long as a plaintiff's claim is reasonably foreseeable, a formal request to preserve the evidence is not required in order for a plaintiff to be entitled to a jury instruction on spoliation." Finally, the court recognized that other state courts applied the "reasonably foreseeable" standard.
************************************************
Contact us toll free at 866-785-GALE or by email to learn your legal rights.
Jeffrey P. Gale, P.A. is a South Florida based law firm committed to the judicial system and to representing and obtaining justice for individuals – the poor, the injured, the forgotten, the voiceless, the defenseless and the damned, and to protecting the rights of such people from corporate and government oppression. We do not represent government, corporations or large business interests.
While prompt resolution of your legal matter is our goal, our approach is fundamentally different. Our clients are "people" and not "cases" or "files." We take the time to build a relationship with our clients, realizing that only through meaningful interaction can we best serve their needs. In this manner, we have been able to best help those requiring legal representation.