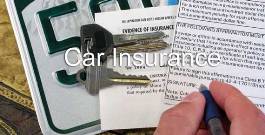 The only motor vehicle insurance coverages the owner of a vehicle registered in Florida must maintain are Personal Injury Protection (PIP) and Property Damage – Liability. Nothing else is required to lawfully operate a vehicle in Florida.
However, if the vehicle owner or a consensual driver of the owner's vehicle causes an accident involving injury or death, these basic coverages will not prevent the owner from losing his drivers license and having all vehicle registrations suspended. Sections 316.066(3)(a)1 and 324.051(2)(a) Florida Statutes.
There is only one type of insurance coverage that can prevent these these things from happening: Bodily Injury Liability (a/k/a BI). Section 324.021 (7) Florida Statutes. (The Florida Department of Motor Vehicles is responsible for suspending the DL and registrations. It's current policy is that neither action will be taken until a judgment is entered against the vehicle owner. This requires that a lawsuit be pursued to completion against the vehicle owner.)

Every type of insurance coverage comes with a price. Bodily Injury coverage is no exception. In fact, it may be the most costly of all coverages available under a motor vehicle insurance policy. It's worth it. In addition to protecting against DL and registration suspensions, the coverage provides some compensation to persons injured through another's negligence. (BI coverage limits start at $10,000 but can go into the millions.)
Maintaining BI coverage is part of being a responsible member of society.
************************************************
Contact us toll free at 866-785-GALE or by email to learn your legal rights.
Jeffrey P. Gale, P.A. is a South Florida based law firm committed to the judicial system and to representing and obtaining justice for individuals – the poor, the injured, the forgotten, the voiceless, the defenseless and the damned, and to protecting the rights of such people from corporate and government oppression. We do not represent government, corporations or large business interests.
While prompt resolution of your legal matter is our goal, our approach is fundamentally different. Our clients are "people" and not "cases" or "files." We take the time to build a relationship with our clients, realizing that only through meaningful interaction can we best serve their needs. In this manner, we have been able to best help those requiring legal representation.