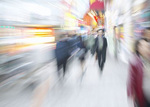 By failing to comply with statutory (and regulatory) (deJesus v. Seaboard Coast Line Railroad, 281 So.2d 198 (Fla.1973)), industry (Seaboard Coast Line R. Co. v. Clark, 491 So.2d 1196 (Fla. 4th DCA 1986), and company safety standards (Steinberg v. Lomenick, 531 So.2d 199 (Fla. 3d DCA 1988), rev. denied, 539 So.2d 476 (Fla.1988) and Mayo v. Publix Super Markets, Inc., 686 So.2d 801 (Fla. 4th DCA 1997)), financial institutions can be held accountable in civil damages to those whose injuries and death — decedent's survivors are compensated — were proximately caused by crimes associated with the use of ATMs and night cash depositories.
Statutes & Regulations
Florida Statutes 655.960-655.965 contain some safety standards, but are limited in impact by 655.961, which provides: "A violation of the provisions of ss. 655.960-655.965 or any regulation made pursuant thereto does not constitute negligence per se." Electronic Funds Transfer Act (Regulation E) and the Bank Protection Act (Regulation P) (12 CFR Section 216.1) are federal laws dealing primarily with matters related to the security of the ATMs themselves and to fraudulent transactions, rather than to ATM users' safety.
Industry Standards
Adequate lighting at and around ATMs. The typical minimum standards, including some mandated by law, are 10 foot-candles within five feet of the ATM, and two foot-candles 50 to 60 feet away from the ATM, measured at three feet above ground (Ellis 1996; CUNA Service Group 1999; Illinois Office of Banks and Real Estate 1999). Because these standards can leave gaps in coverage due to factors such as shadows, light-source direction, a qualified lighting designer should plan ATM lighting.
Landscape and design for good visibility. Use slow growing shrubbery and plants and trim often. Objects that obstruct views, such as dumpsters, should be removed. Hidden alcoves should not be used.
Install mirrors on ATM and in surrounding areas.
Install ATMs where there is natural surveillance. In places with a lot of routine vehicle and foot traffic. Experts recommend visibility from three sides.
Install ATMs in police stations.
Relocate, close or limit hours of operation in high risk locations.

Company Policies & Procedures
Failing to implement its safety policies and procedures and failing to have any policies and procedures whatsoever present banking institutions with legal difficulties.
A system exists to permit customers to silently alert local law enforcement without detection at the same time a transaction is being cleared. Anyone who is being forced to withdraw money from an ATM can enter a four digit number derived from their PIN number that would send a silent alarm to local law enforcement dispatch headquarters. This technology has been called the Reverse Pin or Safety Pin program. According to Lakeland, Florida attorney, Joseph Gleason, a leading authority on violent ATM-associated crime, "Every local law enforcement officer I have spoken with has stated that if technology could become available, at the option of the bank customers, to send a silent alert at the time and place of the forced withdrawal it could aid in the apprehension of these criminals as well as act as an effective deterrent."
Florida's negligent security/premises liability laws are well-equipped to handle civil actions associated with ATM crime. As more civil actions are successfully prosecuted against banking institutions inclined to put profits over people, efforts at protecting the safety of customers should improve.
**********************************************
Jeffrey P. Gale, P.A. is a South Florida based law firm committed to the judicial system and to representing and obtaining justice for individuals – the poor, the injured, the forgotten, the voiceless, the defenseless and the damned, and to protecting the rights of such people from corporate and government oppression. We do not represent government, corporations or large business interests.
Contact us toll free at 866-785-GALE or by email for a free, confidential consultation to learn your rights.