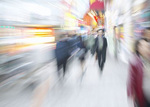 Florida's Wrongful Death Act, located in sections 768.16 through 768.26 of Florida's statutes, controls legal actions arising from the loss of life on account of a tortfeasor's negligence. The Act refers to those who may recover damages for the loss as "survivors."
Survivors can be spouses, children and parents. The Act allows survivors to recover the decedent's medical expenses and future lost earnings and accumulations, and to be compensated for their own mental anguish.
Needless to say, the loss of a parent or child causes substantial mental anguish. Inexplicably, Florida's Legislature has carved out an exception for mental anguish damages caused by medical negligence. Specifically, the Act bars
compensating adult children for mental anguish caused by the death of a parent
compensating parents for mental anguish caused by the death of an adult child
Since section 768.18(2) of the Florida Statutes defines minor children as being children under 25 years of age, notwithstanding the age of majority, the Wrongful Death Act's exceptions apply in the case of children 25 years of age and older.
These exceptions are arbitrary and capricious. Unfortunately, they have been upheld by the Florida Supreme Court. See Mizrahi v. North Miami Medical Center, Ltd., 761 So. 2d 1040 – Fla: Supreme Court 2000.
In addition to depriving survivors of their rightful due, these outrageous exceptions create a dangerous environment for many people who receive medical care in Florida. Strong and fair medical negligence laws demand accountability from providers and facilities. This promotes quality care. Weak laws allow the opposite. Making matters worse, the exceptions create a financial incentive for death as the prefered outcome following a serious malpractice event. Under Florida's civil justice system, those who survive their medical malpractice injuries can be far costlier than those who do not. Because money has a way of making people do rotten things, this is a troubling scenario.
Continue reading