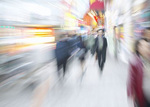 Florida Statute 440.205 is supposed to protect employees from being terminated for making workers' compensation claims. Making a claim can be as simple as reporting an accident. It does not require the filing of a formal Petition for Benefits with DOAH.
Proving a claim for wrongful termination can be difficult. Florida employers are not required to modify work duties or hold jobs open while employees recover from injuries, and Florida is an "At Will" employment state, a legal principle that allows employers to terminate employees at will, for no reason at all. (Thankfully, in addition to the protections of 440.205, At Will is constrained by the U.S. Constitution's prohibition against discrimination based on age, race, and religion. Whistleblowers, individuals who report illegal activity, also are protected against At Will termination. Ironically, it is often safer for employers to fire employees for no reason at all than to fire for particular reasons.)
Employers hide behind these protections when accused of wrongful termination. In appropriate situations, they should be challenged.
An employer found to have violated 440.205, can be liable for civil damages such as lost wages and emotional distress, and subject to criminal fines as a second degree misdemeanor.

Co-employees cannot be sued individually under Section 440.205, although they can be sued under the legal theory of interference with a business relationship. Moreover, it is not clear today whether the statute allows a claim for retaliatory intimidation or coercion where the plaintiff has not been discharged. Although such a claim was allowed in 1999, in Chase v. Walgreen Co., 750 So.2d 93 (Fla. 5th DCA 1999), because of a strong, well-reasoned dissenting opinion and the repeal, in October 1, 2003, of the "obligation to rehire" contained in 440.15(6) , it could well be that no claim lies without a discharge.
**************************************************************
Jeffrey P. Gale, P.A. is a South Florida based law firm committed to the judicial system and to representing and obtaining justice for individuals – the poor, the injured, the forgotten, the voiceless, the defenseless and the damned, and to protecting the rights of such people from corporate and government oppression. We do not represent government, corporations or large business interests.
Contact our office toll free at 866-785-GALE or by email to learn your rights.