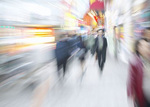 Florida law has long recognized that a car is a dangerous instrumentality. (The dangerous instrumentality doctrine was adopted in Southern Cotton Oil Co. v. Anderson, 80 Fla. 441, 86 So. 629 (1920).) This is based on the simple fact that a car, in the wrong hands and used improperly, is likely to cause great damage. To discourage owners from being careless in the use of their vehicles by others, Florida law holds them responsible for the negligent acts of consensual drivers. This is known as vicarious liability, or liability without fault. (Owners can also be liable under a different legal theory known as negligent entrustment. See this blog for an explanation of the theory: Florida Motor Vehicle Owners Accountable for Damages Without Driving Negligently.)
With rare exception*, vicarious liability is determined through title ownership. This proposition gained solid footing in Metzel v. Robinson, 102 So.2d 385 (Fla.1958), which established the following legal standards: (1) as a matter of law, if a person causes or permits his name to be on the title when the vehicle is acquired, he cannot contradict the title by claiming that he did not intend to be an owner at the outset; (2) as a matter of law, once that person has caused his name to be affixed to the title, he must take some affirmative action to divest himself of that interest to avoid liability; and (3) as a matter of law, relinquishing possession of and having nothing to do with the vehicle after its acquisition is not sufficient to divest that person of his legal interest. (This summary of Metzel is laid out by the 5th DCA, in Bowen v. Taylor-Christensen, 98 So.3d 136, @ 142 (Fla. 5th DCA 2012), a must-read case.)

Bowen involved a vehicle titled to two people, a divorced couple, as co-owners. The ex-wife crashed the vehicle while driving intoxicated and killed a person. The ex-husband was sued under the theory of vicarious liability. He defended by claiming that he purchased the vehicle as a gift for his ex and had no possessory interest. They lived in different counties and "he saw the car only twice after the purchase — the day after the purchase when he drove it to a car wash and one other time in the summer of 2003, during a second and last attempt at reconciliation. The fatal collision occurred on February 21, 2005."
The 5th told the man, 'tough luck, you own it and you're on the hook.' (Subject to the monetary limitations of Florida Statute 324.031(9)(b)3.)
*Two of the so-called exceptions to title holder liability addressed by the courts have also been addressed by statute in the Florida Uniform Traffic Control Law. See § 316.003(26), Fla. Stat. (2013) (conditional sales exception — "owner" defined as one who holds legal title or conditional sales vendee); § 319.22(2), Fla. Stat. (2013) (incomplete transfer — transferor not liable for incomplete transfer if certain formalities are honored).
Lesson of the story: If you intend to gift a car and avoid vicarious liability, keep or get your name off the title. Otherwise, you will be considered to have an identifiable property interest and will be held liable.
************************************************
Contact us toll free at 866-785-GALE or by email (jgale@jeffgalelaw.com) for a free, confidential consultation to learn your legal rights.
Jeffrey P. Gale, P.A. is a South Florida based law firm committed to the judicial system and to representing and obtaining justice for individuals – the poor, the injured, the forgotten, the voiceless, the defenseless and the damned, and to protecting the rights of such people from corporate and government oppression. We do not represent government, corporations or large business interests.
While prompt resolution of your legal matter is our goal, our approach is fundamentally different. Our clients are "people" and not "cases" or "files." We take the time to build a relationship with our clients, realizing that only through meaningful interaction can we best serve their needs. In this manner, we have been able to best help those requiring legal representation.