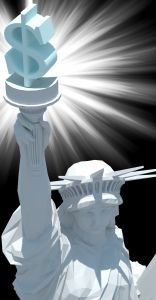 This article — Frightened by Donald Trump? You don't know the half of it — published in theguardian.com, paints a dire picture of what awaits the human race under a Trump Presidency. Civil trial lawyers are all too familiar with the insidious threat discussed in the article.
For more than 30 years, trial lawyers have been the target of these Masters of Misinformation. The Masters have systematically misinformed the public into believing that trial lawyers are the reason for the rising cost of insurance and medical care. One of the bellwether terms used in the misinformation campaign is "frivolous lawsuits."
The campaign has been successful. The public has been convinced to accept legislation that curtails its rights to seek legal redress against Big Business for negligent and sometimes egregious conduct. Legal barriers to courthouse access and arbitrary damage caps are common outcomes.
What all of this means is that The Masters play "We the People" as dumb saps. When folks agree to measures that work against their own and society's best interests, it cannot be said that The Masters are wrong in their assessment.
*************************************
Contact us toll free at 866-785-GALE or by email to learn your legal rights.
Jeffrey P. Gale, P.A. is a South Florida based law firm committed to the judicial system and to representing and obtaining justice for individuals – the poor, the injured, the forgotten, the voiceless, the defenseless and the damned, and to protecting the rights of such people from corporate and government oppression. We do not represent government, corporations or large business interests.
While prompt resolution of your legal matter is our goal, our approach is fundamentally different. Our clients are "people" and not "cases" or "files." We take the time to build a relationship with our clients, realizing that only through meaningful interaction can we best serve their needs. In this manner, we have been able to best help those requiring legal representation.