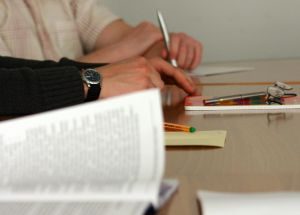 The parties to a Florida workers' compensation case have the unique right to conduct discovery depositions even in the absence of a pending claim, which is brought by filing a Petition for Benefits.
The right is granted under Florida Statute 440.30 and is limited to cases where the Claimant is represented by an attorney. (This means that the Employer and Carrier, known collectively as "E/C", cannot employ the device against an unrepresented Claimant.) Significantly, "[I]f no claim has been filed, then the carrier or employer taking the deposition shall pay the claimant's attorney a reasonable attorney's fee for attending said deposition."
Because both parties may conference separately with authorized medical providers — Section 440.13(4)(c) Florida Statutes grants E/C the right — it is rare for a medical provider to be deposed in the absence of a pending Petition for Benefits. From E/C's perspective, it can learn what it needs by talking to the doctor privately without having to pay the Claimant's attorney to attend a deposition.
More common is where E/C deposes the Claimant. Because E/C are prohibited from engaging in ex-parte communications with a represented Claimant, the only way E/C can question the Claimant in detail is by deposition. If no claim has been filed, E/C must pay the Claimant's attorney for preparing for and attending the deposition.
Insurance companies protect their profits by limiting the payment of benefits. It is their mentality from day one in every workers' compensation case. For this reason it is highly advisable for injured workers to hire legal counsel as quickly as possible to secure what is due. Since our law firm and most other workers' compensation lawyers take these cases on a contingency fee basis, which means that an attorney fee is not due until a recovery is made, there is no good reason not to.
***********************
Contact us toll free at 866-785-GALE or by email to learn your legal rights.
Jeffrey P. Gale, P.A. is a South Florida based law firm committed to the judicial system and to representing and obtaining justice for individuals – the poor, the injured, the forgotten, the voiceless, the defenseless and the damned, and to protecting the rights of such people from corporate and government oppression. We do not represent government, corporations or large business interests.
While prompt resolution of your legal matter is our goal, our approach is fundamentally different. Our clients are "people" and not "cases" or "files." We take the time to build a relationship with our clients, realizing that only through meaningful interaction can we best serve their needs. In this manner, we have been able to best help those requiring legal representation.