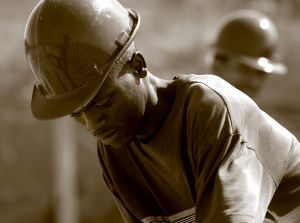 "Disability" under the Longshore and Harbor Workers' Compensation Act (LHWCA) means "incapacity because of injury to earn the wages which the employee was receiving at the time of injury in the same or any other employment * * *." § 902(10).
The big disability compensation prize under the The Act is Permanent Total Disability. The benefit is described in Section 908(a) of the Act as follows:
In case of total disability adjudged to be permanent 66 2/3 per centum of the average weekly wages shall be paid to the employee during the continuance of such total disability.
The other type of monetary benefit paid for a permanent injury is Permanent Partial Disability (PPD). Section 908(c).
PPD benefits are paid for two types of injuries, scheduled and non-scheduled. Scheduled injuries, outlined in sections 908(c)(1)-(21) & (23), cover specific body parts. Payment is for a fixed number of weeks paid at two-thirds of the injured worker's average weekly wage (AWW). (Some scheduled injuries do not appear to match those listed in the sections cited above. For example, a torn meniscus is not listed. However, it is a scheduled injury. Under the A.M.A. Guides to the Evaluation of Permanent Impairment, 6th Edition, the permanent impairment of the left lower extremity for a meniscal tear is 5%. Under section 908(c)(2), a leg lost qualifies for 288 weeks of compensation. While a torn meniscus does not approximate the severity of a lost leg, it is a leg injury nonetheless, making it a scheduled injury. The amount of scheduled compensation for the torn meniscus is figured as follows: 288 (weeks for a lost leg) x .05% (the permanent impairment rating for a torn meniscus) = 14.4 (weeks).)
Scheduled amounts compensate for presumed (as opposed to actual) loss of wage earning capacity. Korineck v. General Dynamics Corporation Electric Boat Division, 835 F.2d 42 (2d Cir.1987).
Non-scheduled injuries, referenced in section 908(c)(21) as "Other cases," are compensated as follows:
"the compensation shall be 66 2/3 per centum of the difference between the average weekly wages of the employee and the employee's wage-earning capacity thereafter in the same employment or otherwise, payable during the continuance of partial disability."
Can a claimant go from PPD to PTD? Yes
PPD contemplates that the injured individual has a wage earning capacity after reaching maximum medical improvement (MMI). To establish a prima facie case for permanent total disability, the claimant need only demonstrate that he or she is unable to return to his or former position with the employer. This showing alone is significantly less than establishing a complete lack of wage earning capacity. See Meehan Seaway Service Company v. Director, OWCP, 125 f. 3D 1163 (8th Cir. 1997). Once the prima case is established, the burden shifts to the employer to rebut disability by demonstrating "suitable alternative employment available upon a reasonably diligent search by the claimant." See DM & IR RY Co. v. Dir., OWCP, 151 F. 3d 1120 (8th Cir. 1998). An employer meets its burden by establishing that "there exists a reasonable likelihood, given the claimant's age, education, and vocational background that he would be hired if he diligently sought the job." New Orleans (Gulfwide) Stevedores v. Turner, 661 F.2d 1031, 1043 (5th Cir.1981); see also Lentz v. Cottman Co., 852 F.2d 129, 131 (4th Cir. 1988). Once an employer has established suitable alternative employment, the burden shifts to the employee to rebut the employer's showing of alternative employment by demonstrating a "diligent yet unsuccessful job search." Edwards v. Director, Office of Workers Compensation Programs, 999 F.2d 1374, 1376 n. 2 (9th Cir.1993); see also Pietrunti v. Director, Office of Workers' Compensation Programs, 119 F.3d 1035, 1041 (2d Cir.1997); Newport News Shipbuilding & Dry Dock Co. v. Tann, 841 F.2d 540, 542 (4th Cir.1988); Roger's Terminal & Shipping Corp. v. Director, Office of Worker's Compensation Programs, 784 F.2d 687, 691 (5th Cir.1986).
********************************
NOTE: The Longshore and Harbor Workers' Compensation Act (LHWCA) is a federal law. While the LHWCA covers employees in traditional maritime occupations such as longshore workers, ship-repairers, shipbuilders or ship-breakers, and harbor construction workers, Congress extended the LHWCA to include other types of employment. Employees covered by these extensions are entitled to the same benefits, and their claims are handled in the same way as Longshore Act claims. The following are the extensions of the LHWCA:
Defense Base Act (DBA) – The DBA covers the following employment activities: (1) Work for private employers on U.S. military bases or on any lands used by the U.S. for military purposes outside of the United States, including those in U.S. Territories and possessions; (2) Work on public work contracts with any U.S. government agency, including construction and service contracts in connection with national defense or with war activities outside the United States; (3) Work on contracts approved and funded by the U.S. under the Foreign Assistance Act, which among other things provides for cash sale of military equipment, materials, and services to its allies, if the contract is performed outside of the United States; and (4) Work for American employers providing welfare or similar services outside the United States for the benefit of the Armed Services, e.g. the United Service Organizations (USO).
Outer Continental Shelf Lands Act (OCSLA) – The OCSLA covers employees working on the Outer Continental Shelf of the United States in the exploration and development of natural resources, for example, off-shore oil drilling rigs.
Non-Appropriated Fund Instrumentalities Act (NAFIA) – The NAFIA covers civilian employees of non-appropriated fund instrumentalities of the Armed Forces (for example, military base exchanges and morale, welfare, and recreational facilities).
********************************
Contact us at 305-758-4900 or by email to learn your legal rights. We handle our LHWCA cases on a contingency fee basis, which means that we do not charge any attorney's fees or cost up front, and are only paid upon a successful outcome.
Jeffrey P. Gale, P.A. is a South Florida based law firm committed to the judicial system and to representing and obtaining justice for individuals – the poor, the injured, the forgotten, the voiceless, the defenseless and the damned, and to protecting the rights of such people from corporate and government oppression. We do not represent government, corporations or large business interests.
While prompt resolution of your legal matter is our goal, our approach is fundamentally different. Our clients are "people" and not "cases" or "files." We take the time to build a relationship with our clients, realizing that only through meaningful interaction can we best serve their needs. In this manner, we have been able to best help those requiring legal representation.