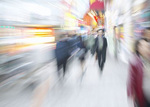 Our client was a passenger in a Dodge Dakota truck owned and leased by Enterprise Leasing Company, when it overturned two to three times on the highway at high speed. The driver, who had rented the truck from Enterprise, had fallen asleep at the wheel. Our severely injured client was airlifted to Shands Hospital, in Gainesville, Florida.
We filed suit against the uninsured driver and Enterprise. We alleged that Enterprise negligently entrusted its truck to the driver. The facts forming the basis of this allegation against Enterprise:
The driver had a suspended Florida drivers license at the time of the lease transaction. While the driver presented to the Enterprise agent what appeared to be a facially valid Texas drivers license, it is unlawful to operate a vehicle in Florida when that driver has a suspended license in any state. Enterprise failed to perform a simple and inexpensive computer search to determine if the driver had a suspended license.
The credit card the driver presented to the Enterprise agent was rejected. Enterprise nevertheless rented the vehicle, in violation of its own policies and procedures, which called for the production of other forms of proof of personal responsibility.
Once upon a time, rental car companies could be held vicariously liable for injuries caused by the negligent operation of their vehicles by authorized drivers. (Whether vicarious liability applied in a state was a matter of state law. Florida is a vicarious liability state. Vicarious liability has been recognized in Florida since 1920. Southern Cotton Oil Co. v. Anderson, 80 Fla. 441, 86 So. 629 (1920). Under this doctrine, a vehicle owner is liable without fault for damages caused by the negligent operation of his or her vehicle by a consensual driver.) As to rental agencies, this standard ended in 2005, when a Republican Congress, at the urging of then-President George Bush, passed the so-called Graves Amendment. The Graves Amendment substituted federal law for state law, providing blanket immunity to rental companies from vicarious liability. (So much for states' rights!)
While the Graves Amendment relieved rental companies from vicarious liability, it allowed to remain in place actions against agencies for negligent entrustment. The distinguishing feature of negligent entrustment from vicarious liability is that the owner is independently at fault in granting consensual use of the vehicle. Florida courts consistently hold that one who negligently entrusts a car to someone is liable for damages flowing from the misuse of that car. Clooney v. Geetting, 352 So. 2d 1216 (Fla. 2nd DCA 1977) ("we see no reason why this theory is not available to claimants injured in automobile accidents in this state.") The Florida Supreme Court long ago held that because the use of a dangerous instrumentality involves such a high degree of risk of serious injury or death, the highest degree of care is required. Skinner v. Ochiltree, 5 So. 2d 605 (Fla. 1941).
Enterprise denied that it negligently entrusted its vehicle to the at-fault driver. Enterprise argued that section 322.38, Florida Statutes, limited the scope of its duty to our client, that it had no responsibility to investigate the status of the driver's driver's license beyond "facial validity," contending that one's driving record or background should not influence its decision to rent one a car, and that a declined credit card is irrelevant to a negligent entrustment claim under section 322.38 as a matter of law. (We presented evidence that poor credit is an indicia of risk recognized by rental agencies and insurance companies.) The trial court agreed with Enterprise, granting summary judgment in its favor.

We appealed to the Third District Court of Appeal. On November 27, 2013, the Third filed its per curiam affirmance of the lower court's ruling. We are hoping the Third District certifies the issue to the Florida Supreme Court as being of great public importance. However, in the words of our appellate attorney, Roy Wasson, "We have an uphill battle." The courts around the country are starting to limit the "negligence" exception to negligent maintenance that causes the crash. The Third District held in Rivers v. Hertz Corp., 121 So. 3d 1078 (Fla. 3d DCA 2013), that the statute in question only requires Hertz to examine the facially valid driver's license and not to investigate the status of that license to determine whether or not it was suspended.
Florida's dangerous instrumentality doctrine imposes vicarious responsibility upon the owner or other possessor of a motor vehicle who voluntarily entrusts it to another for any subsequent negligent operation which injures a member of the traveling public. Jackson v. Hertz Corporation, 590 So.2d 929, 937. See Kraemer v. General Motors Acceptance Corp., 572 So.2d 1363 (Fla. 1990); Susco Car Rental Sys. v. Leonard, 112 So.2d 832 (Fla. 1959); Lynch v. Walker, 159 Fla. 188, 31 So.2d 268 (1947); Southern Cotton Oil Co. v. Anderson, 80 Fla. 441, 86 So. 629 (1920); Anderson v. Southern Cotton Oil Co., 73 Fla. 432, 74 So. 975 (1917).The dangerous instrumentality doctrine is a public safety policy. It's purpose is to encourage vehicle owners to be careful in allowing others to use their motor vehicles. It should apply to an industry that makes billions of dollars a year just as it applies to individuals. If you agree, tell your legislators.
Florida Statute 322.28 – Safe Harbor or Bare Minimum for Rental Car Agencies?
***************************************
Contact us toll free at 866-785-GALE or by email (jgale@jeffgalelaw.com) for a free, confidential consultation to learn your legal rights.
Jeffrey P. Gale, P.A. is a South Florida based law firm committed to the judicial system and to representing and obtaining justice for individuals – the poor, the injured, the forgotten, the voiceless, the defenseless and the damned, and to protecting the rights of such people from corporate and government oppression. We do not represent government, corporations or large business interests.
While prompt resolution of your legal matter is our goal, our approach is fundamentally different. Our clients are "people" and not "cases" or "files." We take the time to build a relationship with our clients, realizing that only through meaningful interaction can we best serve their needs. In this manner, we have been able to best help those requiring legal representation.