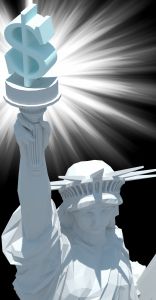 The subject of this blog dovetails nicely with the current Wall Street protests over corporate greed.
It was recently learned that State Farm Insurance raised between $2.4 and $4 million for the 2004 election campaign of an Illinois judge. It was the most expensive race in U.S. judicial history.
The judge, Lloyd Karmeier, won the race to become a member of the Illinois Supreme Court, the highest court in the state. From that perch, he voted to overturn a $1 billion judgment that had been entered against State Farm.*
Losing its case at the trial level, before an impartial jury, it appears that State Farm sought an extra-judicial remedy, albeit cloaked in the garments of a sitting judge.

Not a bad investment for State Farm … at least until the truth became known. Funny how that works….
Several attorneys, including former U.S. senator Fred Thompson, have filed a class action suit against State Farm. They claim that the insurance company defrauded the court. They're asking that the court reconsider its decision to overturn the $1 billion verdict, according to the Chicago Tribune.
Down with Corporate Greed.
Power to the Wall Street protesters!!!
*The class action lawsuit accused State Farm of knowingly requiring auto body repairers to use aftermarket, or inferior, body parts to fix vehicles following crashes. State Farm was also accused of fraud for telling consumers it will have their cars fixed to pre-crash condition with non-OE parts when company officials knew the parts were inferior to OEM parts. (Read this thorough article about the case.)
The aftermarket parts practice was also being used by most of the other automobile insurance companies. After the jury verdict against State Farm, similar class action lawsuits were brought against the other carriers. Some of those cases resolved by settlement before the Ilinois Supreme Court threw out the jury verdict against State Farm. However, once the verdict was overturned, courts around the country followed the Illinois Supreme Court ruling by dismissing the other class action lawsuits.
Accordingly, not only did the tainted Illinois Supreme Court decision have a direct impact on that case, but its ripple effect undermined most of the other cases.
I have inside knowledge of this as my brother-in-law, Sean Domnick, with whom our law firm works together on cases, was involved as the lead attorney in 16 of the other class action lawsuits.
********************************************************
Jeffrey P. Gale, P.A. is a South Florida based law firm committed to the judicial system and to representing and obtaining justice for individuals – the poor, the injured, the forgotten, the voiceless, the defenseless and the damned, and to protecting the rights of such people from corporate and government oppression. We do not represent government, corporations or large business interests.
Contact us toll-free at 866-785-GALE or by email to learn your rights.