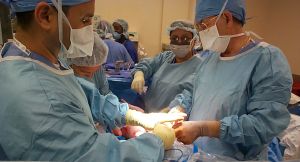 With all of the talk in the country about right-wing legislation mandating transvaginal ultrasounds for woman seeking abortions, another transvaginal issue is coming to light as placing woman at risk of injury and death.
In recent years,Johnson & Johnson, C.R. Bard, Caldera and numerous other manufacturers have encouraged doctors to use the placement of surgical mesh through the vagina to treat pelvic organ prolapse (POP) and stress urinary incontinence (SUI). Unfortunately, the mesh, once considered an advancement in medical care, appears to be fraught with problems.

According to a report issued by the FDA in 2011, use of these products shows a five-fold increase in deaths and serious injury (erosion of the mesh into the vaginal tissue, organ perforation, pain, infection, painful intercourse, and urinary and fecal incontinence). Quite often, woman require surgery to remove the mesh.
If you or a loved one has been harmed by the mesh, we invite you to contact us toll-free at 866-785-GALE or by email for a free, confidential consultation to learn your legal rights.
***********************************************
Jeffrey P. Gale, P.A. is a South Florida based law firm committed to the judicial system and to representing and obtaining justice for individuals – the poor, the injured, the forgotten, the voiceless, the defenseless and the damned, and to protecting the rights of such people from corporate and government oppression. We do not represent government, corporations or large business interests.