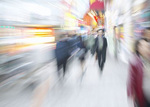 Success for the victim of a premises liability accident requires that he or she prove the defendant knew or should have known beforehand of the existence of the dangerous condition which caused the accident, and that the accident was foreseeable.
One of the most effective ways of establishing these elements is through similar prior accidents.
Most business establishments prepare incident reports following accidents. The reports contain accident details along with the victim's name and contact information.
Once a lawsuit is filed, the Florida Rules of Civil Procedure allow the parties to obtain case relevant information, also known as discovery, from each other and non-parties. Subpoenas, depositions, and document requests are the common methods of obtaining information.
Typically, the prior incident reports themselves are not discoverable based on the privilege doctrine of being prepared in anticipation of litigation. However, defendants must provide detailed information about prior accidents, including victim names and contact information, date and location of incidents, and some description of what occurred. Publix Supermarkets, Inc. v. Martin, 739 So.2d 174 (Fla. 2d DCA 1999).

In Publix, the information was ordered produced for the five prior years. In Hilliard v. Speedway Superamerica, LLC, 766 So.2d 1153 (Fla. 4th DCA 2000), it was ordered for three years. Between three and five years has come to be the rule of thumb, although similarity is the crux of the issue either way.
Other pertinent cases include:
Cases are often won or lost in discovery. With regard to premises liability cases, obtaining prior accident information can be critical.
CAVEAT: Defendants can use evidence of no prior similar events to show (1) an absence of the defect or condition alleged, (2) the lack of a causal relationship between the injury and the defect or condition charged, (3) the nonexistence of an unduly dangerous situation, (4) want of knowledge (or of grounds to realize) the danger, and (5) lack of foreseeability. See this blog: Florida Premises Liability Law Allows Evidence of No Prior Similar Events
***********************************************************
Contact us toll-free at 866-785-GALE or by email to learn your rights.
Jeffrey P. Gale, P.A. is a South Florida based law firm committed to the judicial system and to representing and obtaining justice for individuals – the poor, the injured, the forgotten, the voiceless, the defenseless and the damned, and to protecting the rights of such people from corporate and government oppression. We do not represent government, corporations or large business interests.