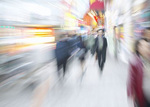 Winning may not be a victim's only concern in a personal injury case. Collecting on damages awarded post-victory can be of equal or greater importance.
Not every tortfeasor (at-fault party) is adequately insured or has the independent financial means to satisfy a court judgment. In some instances a non-negligent party, one, perhaps, with the resources to satisfy a judgment, is held legally accountable for the damages caused by another party. This is called vicarious liability. The most common example of vicarious liability involves the owner of a motor vehicle being responsible for the negligence of a permissive user of the vehicle. It is worth repeating that a vicariously liable party need not be negligent.
Florida employers can be liable for the conduct of their employees in two different ways. One is vicarious liability. The other requires active negligence on the part of the employer.
An employer can be vicariously liable for the act of an employee committed (1) within the scope of employment, or (2) during the course of employment and to further a purpose or interest of the employer. Valeo v. East Coast Furniture Co., So.3d , 37 FLW D1820 (Fla. 4th DCA 8-1-2012). In Valeo, following a motor vehicle accident the plaintiff exited his truck and approached the driver's side window of the defendant's truck, whereupon the defendant's employee hit him in the eye with a padlock. The defendant's driver testified that he hit the plaintiff with a padlock because he thought the plaintiff was trying to rob him of cash he was carrying for the employer. The plaintiff denied being the aggressor. The trial court decided that the employer could not be vicariously liable under these circumstances. The appellate court disagreed, holding that the question was one to be decided by a jury.

The other way of holding an employer accountable is through its own negligence. An employer is liable where it negligently hires and/or retains an employee. This concept of employer liability for negligent hiring or retention of an employee goes back in Florida jurisprudence to at least 1954 in Mallory v. O'Neil, 69 So.2d 313 (Fla. 1954) (complaint alleged agent and caretaker of apartments, known to have prior record of charge and trial for assault to commit murder, but nevertheless kept on premises by owner, secured a gun and shot a tenant). The Florida Supreme Court explained that the concept
is grounded on negligence of the defendant in knowingly keeping a dangerous servant on the premises which defendant knew or should have known was dangerous and incompetent and liable to do harm to the tenants.
(Tallahassee Furniture Co., Inc. v. Harrison, 583 So. 2d 744 (Fla. 1st DCA 1991) is a case of more recent vintage that is frequently cited for the concept.)
Our firm used this concept to make a substantial recovery for a brain injured client who was slugged by a thrift store's furniture deliveryman. Discovery in the case revealed that the deliveryman had been arrested more than once, including for fleeing from law enforcement in a vehicle, and was known around the workplace as, "Little Mike," after former world heavyweight boxing champion Mike Tyson. We alleged that he was a danger to others, and the defendant knew or should have known so.
Note: Generally, sexual assaults and batteries by employees are held to be outside the scope of an employee's employment and, therefore, insufficient to impose vicarious liability on the employer. See City of Green Cove Springs v. Donaldson, 348 F.2d 197 (5th Cir.1965); Bozarth v. Harper Creek Board of Education, 94 Mich. App. 351, 288 N.W.2d 424 (1979); 6 Am.Jur.2d Assault & Battery § 139 (1963). However, some exceptions to this rule do apply.
Where "the servant purported to act or speak on behalf of the principal and there was reliance upon apparent authority, or he was aided in accomplishing the tort by the existence of the agency relation." A Florida case applied this principle in a fraud case. See Industrial Insurance Company of New Jersey v. First National Bank of Miami, 57 So.2d 23 (Fla. 1952).
Where the employer is a common carrier for hire to the public, and the tort or attack is by an employee upon a passenger while the contract for transport is being accomplished. See Nazareth v. Herndon Ambulance Serv., 467 So. 2d 1076 – Fla: Dist. Court of Appeals, 5th Dist. 1985; Jenkins v. General Cab Company of Nashville, 175 Tenn. 409, 135 S.W.2d 448 (1940); Restatement (Second) of Agency, § 214 (1958); 9 Fla.Jur.2d Carriers § 116; 139 (1979). Florida has long recognized vicarious liability on the part of a carrier-employer for torts of employees under such circumstances without regard to whether they were committed within the scope of employment. See Miami Transit Company v. Yellen, 156 Fla. 351, 22 So.2d 787 (1945) (bus company); Jacobs v. Harlem Cab, Inc., 183 So.2d 552 (Fla. 3d DCA 1966) (taxi cab company); Henderson v. Tarver, 123 So.2d 369 (Fla. 2d DCA 1960) (taxi cab company).
************************************************
Contact us toll free at 866-785-GALE or by email to learn your legal rights.
Jeffrey P. Gale, P.A. is a South Florida based law firm committed to the judicial system and to representing and obtaining justice for individuals – the poor, the injured, the forgotten, the voiceless, the defenseless and the damned, and to protecting the rights of such people from corporate and government oppression. We do not represent government, corporations or large business interests.
While prompt resolution of your legal matter is our goal, our approach is fundamentally different. Our clients are "people" and not "cases" or "files." We take the time to build a relationship with our clients, realizing that only through meaningful interaction can we best serve their needs. In this manner, we have been able to best help those requiring legal representation.