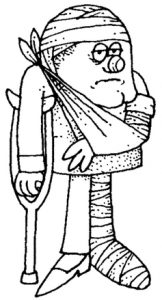 To receive wage loss benefits following an accident, injured workers must demonstrate a connection between the wage loss and their injuries. Wyeth/Pharma Field Sales v. Toscano, 40 So. 3d 795 (Fla. 1st DCA 2010). The most common way of accomplishing this is through medical testimony. Many people believe that it is the only way. It's not.
Florida's workers' compensation system provides for two types of pre-maximum medical improvement indemnity compensation benefits, temporary partial (TP; section 440.15(4) Florida Statutes) and temporary total (TT; 440.15(2)). TP is for employees able to work with restrictions, TT is for employees unable to work.
The workers' compensation insurance companies get to pick the doctors. Many of these doctors tend to favor the insurance companies in their opinions. One way they help is by limiting restrictions or assigning none at all.
Form DWC-25 is a form completed by the workers' compensation doctors. Sections 21-23 address work restrictions. Workers' compensation insurance companies typically refuse to pay indemnity benefits to injured employees who refuse or quit a job that is available within the DWC-25 restrictions.
When there is a disagreement between the worker and doctor over restrictions, resulting in a denial of benefits, a Judge of Compensation Claims (JCC) may be called upon to resolve the dispute. While defeating medical testimony with lay testimony is an uphill battle, it is not impossible. What Florida workers' compensation law has always recognized is that in proper circumstances, lay testimony is often sufficient to sustain a compensation award, even though it conflicts with medical testimony, Crowell v. Messana Contractors, 180 So.2d 329 (Fla. 1965). The justification for this rule was explained by the Supreme Court of Florida in Magic City Bottle & Supply Company v. Robinson, 116 So.2d 240 (1959):
In arriving at this rule, two underlying reasons may be discerned: the first is that lay testimony, including that of the claimant himself, is of probative value in establishing such simple matters as the existence and location of pain, the sequence of events leading to the compensable condition, and the actual ability or inability of the claimant to perform his work. Secondly, industrial commissions generally become expert in analyzing certain uncomplicated kinds of medical facts, particularly those bearing on industrial causation, disability, malingering and the like.
To win these fights, detailed common sense evidence must be presented. It also goes a long way to show that the claimant has tried without success to perform jobs within the doctor's restrictions.
***************************************
Contact us toll free at 866-785-GALE or by email to learn your legal rights.
Jeffrey P. Gale, P.A. is a South Florida based law firm committed to the judicial system and to representing and obtaining justice for individuals – the poor, the injured, the forgotten, the voiceless, the defenseless and the damned, and to protecting the rights of such people from corporate and government oppression. We do not represent government, corporations or large business interests.
While prompt resolution of your legal matter is our goal, our approach is fundamentally different. Our clients are "people" and not "cases" or "files." We take the time to build a relationship with our clients, realizing that only through meaningful interaction can we best serve their needs. In this manner, we have been able to best help those requiring legal representation.