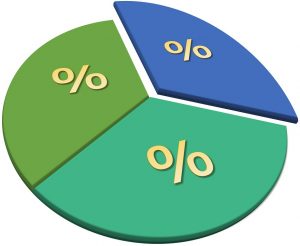 Liability insurance carriers pursue every avenue to limit the amounts they must pay in damages to harmed parties. One avenue at their disposal is Florida Statute 768.76(1):
In any action to which this part applies in which liability is admitted or is determined by the trier of fact and in which damages are awarded to compensate the claimant for losses sustained, the court shall reduce the amount of such award by the total of all amounts which have been paid for the benefit of the claimant, or which are otherwise available to the claimant, from all collateral sources; however, there shall be no reduction for collateral sources for which a subrogation or reimbursement right exists.
768.76(2)(a) defines "Collateral sources" as follows:
(a) "Collateral sources" means any payments made to the claimant, or made on the claimant's behalf, by or pursuant to:

1. 

The United States Social Security Act, except Title XVIII and Title XIX; any federal, state, or local income disability act; or any other public programs providing medical expenses, disability payments, or other similar benefits, except those prohibited by federal law and those expressly excluded by law as collateral sources.

2. 

Any health, sickness, or income disability insurance; automobile accident insurance that provides health benefits or income disability coverage; and any other similar insurance benefits, except life insurance benefits available to the claimant, whether purchased by her or him or provided by others.

3. 

Any contract or agreement of any group, organization, partnership, or corporation to provide, pay for, or reimburse the costs of hospital, medical, dental, or other health care services.

4. 

Any contractual or voluntary wage continuation plan provided by employers or by any other system intended to provide wages during a period of disability.
Subpart (2)(b) is there to make it clear that the enumerated programs have a right of subrogation or reimbursement. However, as suggested by the second clause of subpart (1), there can be other entities that have paid compensation to the benefit of the claimant with the right of subrogation or reimbursement. The most common of these are health and disability insurance carriers.
The right to subrogation or reimbursement can be by contract or common law.
See Centex-Rodgers Construction Company v. Herrera
, 761 So.2d 1215 (Fla. 4th DCA 2000). However, unlike most rights by contract, the common law right only applies if the insured has been compensated for all of his or her damages.
See Humana Health Plans v. Lawton,
675 So.2d 1382 (Fla. 5th DCA 1996):
What often occurs when amounts have been paid for the benefit of the claimant by entities with the right of subrogation or reimbursement, is that the claimant negotiates with the entity to reduce or waive the lien. Liability carriers then argue that the claimant's damages are the negotiated amount rather than the full amount paid by the collateral source. If the argument were valid, which it is not, it would reduce the liability carriers' exposure. The argument was made and shot down in
Centex-Rodgers Construction Company v. Herrera, M.D., 816 So.2d 1206 (Fla. 4th DCA 2002)
. The Court held as follows:
In
Dominos Pizza v. Wiederhold, 248 So.3d 212 (Fla. 5th DCA 2018)
, Medicare and Cigna paid $863,056.55 on the decedent's behalf. The estate satisfied the liens for $51,612.49. Dominos argued that it would be an inappropriate windfall to allow the estate to recover the total amount paid by Medicare and Cigna. The trial court agreed. The 5th DCA disagreed. Here is what it said:
The estate has a right to claim medical expenses paid by or on Mr. Wiederhold's behalf. Id. § 768.21(6)(b); Horton v. Channing, 698 So.2d 865, 869 (Fla. 1st DCA 1997) (determining that $425,824.42 paid by insurance providers constituted medical expenses paid on behalf of decedent, and therefore, constituted damages as provided by section 768.21(6)(b), despite fact that plaintiff and estate had no obligation to repay providers). Further, such damages are not subject to reduction when subrogation or reimbursement right exists. § 768.76(1), Fla. Stat. (2012); Sutton v. Ashcraft, 671 So.2d 301, 303 (Fla. 5th DCA 1996). "The waiver or relinquishment of such rights does not destroy their character." Sutton, 671 So.2d at 303. "[I]t is the existence of such rights, not their exercise, which denies a tortfeasor the statutory right to a collateral source reduction." Id.; see Centex-Rodgers Constr. Co. v. Herrera, 816 So.2d 1206, 1207 (Fla. 4th DCA 2002) (following Sutton, and noting that disability carrier's release or waiver of its subrogation rights, pursuant to negotiated settlement, does not destroy character of disability payments). In other words, Domino's cannot escape liability for medical expenses paid on Mr. Wiederhold's behalf because she settled those claims. As this Court has explained:

It may seem unfair that, by virtue of a contractual arrangement with the insurance carrier, the survivors received substantially more than their stipulated damages and that the defendants are required to pay the full amount of damages even though part of those damages had been paid. On the other hand, plaintiffs' counsel was ingenious in inducing Allstate, in return for a $95,000 discount on the face amount of the UM coverage, to surrender its subrogation rights and the opportunity to pursue and settle a claim of speculative value. There is no reason that ingenuity should accrue to the benefit of the tortfeasors. Walker v. Hilliard, 329 So.2d 44 (Fla. 1st DCA 1976). The principle behind the collateral source rule is that it is better for the wronged plaintiff to receive a potential windfall than for a tortfeasor to be relieved of responsibility for the wrong. Respess v. Carter, 585 So.2d 987, 990 (Fla. 5th DCA 1991).

Based on the plain wording of section 768.21(6)(b), we conclude the trial court erred in prohibiting Mrs. Wiederhold from seeking compensation for medical expenses paid on Mr. Wiederhold's behalf.
**************************
Contact us at 305-758-4900 or by email to learn your legal rights.
Jeffrey P. Gale, P.A. is a South Florida based law firm committed to the judicial system and to representing and obtaining justice for individuals – the poor, the injured, the forgotten, the voiceless, the defenseless and the damned, and to protecting the rights of such people from corporate and government oppression. We do not represent government, corporations or large business interests.
While prompt resolution of your legal matter is our goal, our approach is fundamentally different. Our clients are "people" and not "cases" or "files." We take the time to build a relationship with our clients, realizing that only through meaningful interaction can we best serve their needs. In this manner, we have been able to best help those requiring legal representation.