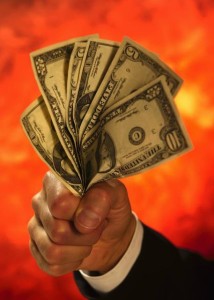 With a sizable portion of our law firm's practice engaged in the representation of injured workers, we often tangle with issues related to long term disability insurance. LTD is commonly offered by employers to their employees as a fringe benefit. The employer either pays the full premium, a portion thereof, or nothing at all. One advantage of a group plan (employer based) over an individual plan is that the premium is typically lower due to economies of scale. On the other hand, disputes under group plans are more difficult for insureds to prosecute as compared to individual plans, as the former fall under the less consumer friendly federal ERISA law while the latter are governed by more equitable state laws. Group or individual, benefiting from LTD insurance can prove illusory.
An LTD insurance policy is a contract. Its terms control the rights and duties of the parties to the contract. Most LTD policies provide that LTD benefits will be offset against disability payments received from other sources such as workers' compensation and Social Security Disability (SSD). For example: assume that the LTD policy provides for a $2,000 monthly payment for a qualifying disability. However, if the insured is receiving $500 per week from workers' compensation or a monthly payment from Social Security Disability (SSD), the $2,000 LTD payment will be reduced by the amount of those payments. Hence, a $500 weekly payment from WC will reduce the LTD carrier's obligation to zero. Not surprisingly, LTD does not rebate the premium to its insured under this circumstance.
LTD insurance carriers know that a large percentage of disabling injuries are work related. Because the qualifying requirements for workers' compensation disability benefits and LTD are always similar, injured workers are usually just as likely to qualify for workers' compensation benefits as they are for LTD benefits. LTD carriers also know that those who meet their qualifying standards can also be expected to qualify for SSD benefits. Only a tiny fraction of LTD policy consumers will not be eligible for one of the other benefits if not both.
In some instances, LTD benefits will have been paid while the insured is pending receipt of similar indemnity benefits from workers' compensation and Social Security Disability. If the insured is subsequently awarded benefits covering the same time period for which the LTD benefits were paid, regardless of whether the award was for TPD, TTD, or PTD benefits, — types of Florida workers' compensation indemnity benefits — the LTD carrier will look to be repaid.
A similar problem arises when the insured tries to settle his or her workers' compensation case. The LTD carrier that has paid benefits will expect to be repaid from the settlement proceeds. This will often blow up a settlement. For example, we have a pending workers' compensation case where the LTD carrier has paid in excess of $130,000. Based on the language of the LTD contract, the carrier is expecting to be repaid in full from any workers' compensation settlement without compromising the amount owed to account for a net recovery to the claimant. Thus far, this has prevented us from settling the workers' compensation case. Given its unwillingness to compromise, the LTD carrier apparently does not understand or does not care that 100% of nothing equals nothing. Making matters worse is that some LTD plans allow the carrier to reduce future payments.
These factors can make a workers' compensation settlement worthless to the injured claimant and destroy the long term disability claim. After all, why would an injured claimant want to settle his or her case simply to repay LTD and see a reduction in future disability benefits?
Settlement money paid for medical expenses (past and future), rehabilitation, and attorney's fees and litigation costs are not subject to the LTD lien. (Be careful with the attorney's fees. Some policies claim that the lien takes priority over attorney's fees, an outrageous position considering that it was the attorney's efforts that effectuated the recovery.) Supporting the lien-free allocations with strong documentation can avoid later disputes with the LTD carriers. It is also helpful to work in advance with the LTD carrier to reach understandings, so the workers' compensation attorney can negotiate knowing fully who will get what upon final settlement. A proper negotiation cannot be undertaken any other way.
Another potential work around solution is to settle the workers' compensation case for a small amount and allocate the lion's share of the total settlement proceeds to other employment related claims like wrongful termination and overtime wages (FLSA). As with the allocations discussed in the previous paragraph, it is important to substantiate the basis for the payments.
In dealing with these issues, it is critically important to read and understand the language of the LTD contract. It bears repeating that the language determines the rights and duties of the parties to the contract, the insured and the insurer. For example, the language may limit the LTD carrier's offset and recovery rights. Surprisingly, it may also allow the carrier to reduce LTD benefits even if the insured has not applied for workers' compensation benefits as if they were being received. For example, we have seen the following policy language:
"If it is reasonable to believe that you would be paid such benefits or other amounts from any of the above sources or it is reasonable to believe that you would be paid such benefits or other amounts if you had applied for them or had applied for them on time."
It is not the purpose of this blog to propose that LTD insurance can never be a beneficial product. It does work in some instances. It worked for our client who received the $130,000 in LTD benefits. While his receipt of benefits of those benefits is a stumbling block now, for his situation the payment then outweighs the difficulty now. Rather, the purpose of this blog is to get consumers to give thoughtful consideration to the pros and cons of LTD insurance.
********************************
Contact us at 305-758-4900 or by email to learn your legal rights.
Jeffrey P. Gale, P.A. is a South Florida based law firm committed to the judicial system and to representing and obtaining justice for individuals – the poor, the injured, the forgotten, the voiceless, the defenseless and the damned, and to protecting the rights of such people from corporate and government oppression. We do not represent government, corporations or large business interests.
While prompt resolution of your legal matter is our goal, our approach is fundamentally different. Our clients are "people" and not "cases" or "files." We take the time to build a relationship with our clients, realizing that only through meaningful interaction can we best serve their needs. In this manner, we have been able to best help those requiring legal representation.