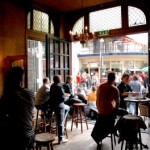 Floridians, like residents in every state, are acutely aware "of the terrible toll taken, both in personal injuries and property damage, by drivers who mix alcohol and gasoline," Ontiveros v. Borak, 136 Ariz. 500, 667 P.2d 200, 205 (1983). While many of the culprits receive their intoxicating fuel from bars and restaurants, the legal standard for holding establishments liable for vehicle crashes caused by their patrons is exceedingly high. §768.125 Florida Statutes, Florida's Dram Shop statute, provides the standard:
Liability for injury or damage resulting from intoxication.—A person who sells or furnishes alcoholic beverages to a person of lawful drinking age shall not thereby become liable for injury or damage caused by or resulting from the intoxication of such person, except that a person who willfully and unlawfully sells or furnishes alcoholic beverages to a person who is not of lawful drinking age or who knowingly serves a person habitually addicted to the use of any or all alcoholic beverages may become liable for injury or damage caused by or resulting from the intoxication of such minor or person.
In practice, it is especially difficult to establish the "knowingly serves a person habitually addicted …" element. Most cases relying on this element are dismissed by the courts before making it to trial.
Some personal injury lawyers mistakenly believe this standard must be met even when a patron is hurt in an alcohol-related incident while in or on the serving establishment's premises. The mistake comes from failing to recognize important legal differences between motor vehicle crash cases and premises liability cases.
Once a patron leaves the premises and drives off, the Dram Shop law becomes the only legal mechanism available to the victim for holding the establishment liable for the damages caused by the drunk driver. The Dram Shop statute limits the duty owed victims. In contrast, tavern owners owe patrons a duty to protect against those risks in and around their premises which are reasonably foreseeable. Stevens v. Jefferson, 436 So.2d 33 (Fla. 1983). Foreseeable risks include alcohol-fueled fighting and intoxicated patrons falling down and hurting others, which may be established by proving a proprietor had actual or constructive knowledge of the rowdy or inappropriate behavior that is likely to cause harm to other patrons. See Hall v. Billy Jack's, Inc., 458 So.2d 760 (Fla., 1984).
In other words, patrons injured while on-premises through alcohol-related incidents do not have to prove any of the onerous elements of §768.125 Florida Statutes to succeed in holding tavern owners liable. (Patrons are not precluded from asserting a violation of §768.125.)
Appropriate training, policies, and procedures can avoid unnecessary incidents.
**************************************
Contact us toll free at 866-785-GALE or by email to learn your legal rights.
Jeffrey P. Gale, P.A. is a South Florida based law firm committed to the judicial system and to representing and obtaining justice for individuals – the poor, the injured, the forgotten, the voiceless, the defenseless and the damned, and to protecting the rights of such people from corporate and government oppression. We do not represent government, corporations or large business interests.
While prompt resolution of your legal matter is our goal, our approach is fundamentally different. Our clients are "people" and not "cases" or "files." We take the time to build a relationship with our clients, realizing that only through meaningful interaction can we best serve their needs. In this manner, we have been able to best help those requiring legal representation.