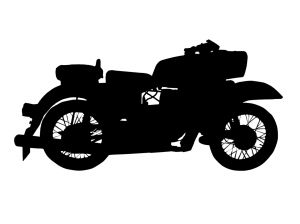 Motor vehicle bodily injury (BI) insurance compensates for economic and non-economic damages caused by the insured at-fault driver and vehicle owner. The amount available under any particular policy is capped by the coverage limits chosen by the insured.
BI coverage is not mandatory in Florida. The insured must pay a premium for the coverage on top of what is required to obtain the mandatory coverage of property damage liability and personal injury protection (PIP). For this reason, many Florida drivers do not maintain BI coverage.
Uninsured/Underinsured Motorist coverage is designed to fill the void where BI is either not available or the BI limit is less than the total damages sustained. Put another way, UM provides coverage for damages which you are legally entitled to recover from the owner or operator of an uninsured or underinsured motor vehicle who causes an accident which results in your bodily injury. Like BI, UM insurance is not mandatory.
Is UM available to a motorcyclist who sustains personal injuries in a crash caused by an uninsured motorist? Maybe.

While UM insurance can be purchased for a motorcycle, Florida law does not require that any type of insurance, not even PIP and property damage liability, be maintained to register and operate a motorcycle in Florida. The result is that many motorcycles do not have insurance coverage.
Nevertheless, even if the motorcycle is not insured, UM (and PIP) may be available to the motorcyclist under various scenarios.
Scenario #1: The motorcyclist did not own the motorcycle, but owned a car or even another motorcycle on which UM was maintained, or lived with a resident relative who maintained UM on a vehicle. If the motorcyclist did not live with the owner of the motorcycle (see Section 627.727(9)(c) Florida Statutes), he or she may be able to recover UM benefits under one of those policies. (I use the indefinite word "may" to indicate if UM will be recovered, because insurance companies will deny claims for discrepancies, intentional or not, contained in insurance applications. See this blog: Factors in Florida Insurance Contract Rescission Cases.)
Scenario #2: The motorcyclist owns the uninsured motorcycle and another motor vehicle on which "stacking" UM coverage is maintained. The motorcyclist can make a claim for benefits under his "stacking" UM policy. (Read these blogs to understand "stacking": Understanding Florida UM (Uninsured/Underinsured) Coverage and Florida Motor Vehicle Insurance Law: What is Stacked Coverage? .)
Scenario #3: The injured motorcyclist owns the uninsured motorcycle and another motor vehicle on which "non-stacking" UM coverage is maintained. Unless the motorcycle was newly acquired or a temporary substitute vehicle, the motorcyclist will not be able to recover under his UM.
Insurance issues can be complex. Contact us toll free at 866-785-GALE or by email (jgale@jeffgalelaw.com) for a free, confidential consultation to learn your legal rights.
Jeffrey P. Gale, P.A. is a South Florida based law firm committed to the judicial system and to representing and obtaining justice for individuals – the poor, the injured, the forgotten, the voiceless, the defenseless and the damned, and to protecting the rights of such people from corporate and government oppression. We do not represent government, corporations or large business interests.
While prompt resolution of your legal matter is our goal, our approach is fundamentally different. Our clients are "people" and not "cases" or "files." We take the time to build a relationship with our clients, realizing that only through meaningful interaction can we best serve their needs. In this manner, we have been able to best help those requiring legal representation.