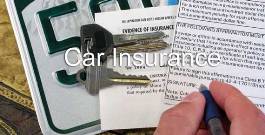 The term "Full Coverage" means different things to different people.
For a vehicle to be registered in Florida, Florida law requires the owner to maintain nothing more than Personal Injury Protection ("PIP") and Property Damage Liability insurance. PIP covers 80% of medical expenses and/or 60% of wage losses up to a total of $10,000, while Property Damage Liability pays for the damage or loss of property caused by the at-fault driver or owner of the motor vehicle. (The minimum coverage limit for PD Liability is $10,000.)
Neither of these coverages compensates anyone for bodily injury losses, also known as non-economic or pain & suffering damages.
Only Bodily Injury Liability ("BI") insurance and Uninsured/Underinsured Motorist ("UM/UIM") insurance compensate for non-economic damages. Neither of these coverages is mandatory, which means that a policy containing one or both of the them costs more than the basic PIP/PD Liability policy. Because of the additional cost, many people forego the coverages.

BI operates like Property Damage Liability, but for personal injuries instead of property damage. It does not compensate the policyholder. Rather, the coverage is for those harmed by the negligence of the policyholder.
Uninsured/Underinsured Motorist (UM/UIM) insurance compensates for the same type of losses as BI, but instead of compensating those harmed by the insured, it compensates the insured for the harm caused by others where the at-fault party does not have BI coverage or where the losses exceed the BI limits.
We understand why people believe they have "Full Coverage" – it is all that is required by law – but it is not what personal injury attorneys consider to be full coverage. (In fact, there are even more types of coverages not mentioned in this blog that are available under a Florida motor vehicle insurance policy.)
*************************************************
Contact us toll-free at 866-785-GALE or by email to learn your rights.
Jeffrey P. Gale, P.A. is a South Florida based law firm committed to the judicial system and to representing and obtaining justice for individuals – the poor, the injured, the forgotten, the voiceless, the defenseless and the damned, and to protecting the rights of such people from corporate and government oppression. We do not represent government, corporations or large business interests.