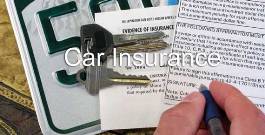 Almost daily people tell us that they or the at-fault driver in an accident have "Full Coverage" vehicle insurance. The subject comes up while trying to determine if insurance is available to provide compensation for non-economic damages such as pain & suffering arising from personal injuries sustained in a motor vehicle crash. Most people believe that such coverage is available as part of the basic insurance coverage required by the state of florida to lawfully operate a vehicle in Florida. It isn't.
Florida law requires every owner of a vehicle registered in Florida to maintain nothing more than Personal Injury Protection ("PIP") and Property Damage Liability insurance. Many people are suprised to learn that neither of these coverages compensates anyone for pain & suffering damages. PIP covers 80% of medical expenses and/or 60% of wage losses up to a total of $10,000 subject to deductibles, while Property Damage Liability pays for damage to other vehicle caused by the at-fault pary. (The minimum level for this type of coverage is $10,000.)
When someone is injured in a Florida motor vehicle accident, only Bodily Injury Liability ("BI") and Uninsured/Underinsured Motorist ("UM/UIM") insurance will compensate the victim for his non-economic (pain & suffering) damages. Neither of these coverages is mandatory and to have either requires a premium payment over that required for the minimum mandatory PIP and PD Liability insurance.

Bodily Injury coverage operates like Property Damage Liability, but instead of paying for property damage, it compensates the person injured by the at-fault party for personal injuries. It does not compensate the policyholder whose negligence caused the accident.
Uninsured/Underinsured Motorist (UM/UIM) insurance covers the same losses covered by BI insurance, but only comes into play if there is no BI coverage or the BI coverage limits are inadequate to provide full compensation for the losses sustained. Unlike BI insurance, UM/UIM is purchased by the person who was injured by the at-fault party.
In conclusion, "Full Coverage" usually means something different to the personal injury attorney than it does to the victim of a car accident or the person who caused the accident.
*************************************************
Contact us toll-free at 866-785-GALE or by email to learn your rights.
Jeffrey P. Gale, P.A. is a South Florida based law firm committed to the judicial system and to representing and obtaining justice for individuals – the poor, the injured, the forgotten, the voiceless, the defenseless and the damned, and to protecting the rights of such people from corporate and government oppression. We do not represent government, corporations or large business interests.