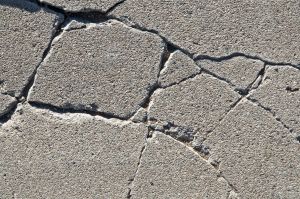 Our last blog discussed the liability of landowners for accidents caused by tree roots. Today's blog addresses the liability of landowners for accidents caused by broken sidewalks.
Every premises liability case analysis involving invitees begins here:
"Generally, a property owner owes two duties to an invitee: (1) the duty to use reasonable care in maintaining the property in a reasonably safe condition; and (2) the duty to warn of latent or concealed dangers which are or should be known to the owner and which are unknown to the invitee and cannot be discovered through the exercise of due care." Aaron v. Palatka Mall, L.L.C., 908 So.2d 574, 577 (Fla. 5th DCA 2005).

One of the typical defenses to element (2) is that the condition is so open and obvious as not to constitute a dangerous condition. Dampier v. Morgan Tire & Auto, LLC, 82 So. 3d 204, 206 (Fla 5th DCA 2012). We prevailed against this defense in a recent jury trial by showing that the condition was not open and obvious.*
The dangerous condition was a missing dock board. Our client, a visitor, fell through the gap during an evening stroll under reduced lighting conditions. She did not see or expect the condition. Had the dock been a sidewalk and the dangerous condition a broken section, the outcome would have been the same.
Expectation plays a big part in premises liability trip and fall cases. It is why tree root cases are generally more difficult for plaintiffs to win than broken sidewalk cases.
In tree root fall cases, element (2) of the duty standard is addressed as follows:
Landscaping features are generally found not to constitute a dangerous condition as a matter of law…. [A] landowner has no liability for falls which occur when invitees walk on surfaces not designed for walking, such as planting beds.
Dampier v. Morgan Tire & Auto, LLC, 82 So.3d 204 (Fla. 5th DCA 2012) (While crossing to a sidewalk, Dampier tripped on a stump in a planting bed and fell headlong to the ground.)
Sidewalks are designed for walking, which is why broken sidewalk cases stand a better chance than tree root cases. (Read this blog — Florida Premises Liability Law: Tree Root Trip & Fall Accidents — for ideas how to overcome Dampier.)
*Another way of attacking the defense is by showing that the owner or possessor should have anticipated the harm despite the dangerous condition being open and obvious. Aaron v. Palatka Mall, L.L.C., 908 So.2d 574 (Fla. 5th DCA 2005) (citation omitted) (invitee fell on a parking lot bumper. Summary judgment for the property owner reversed).
************************************************
Contact us toll free at 866-785-GALE or by email to learn your legal rights.
Jeffrey P. Gale, P.A. is a South Florida based law firm committed to the judicial system and to representing and obtaining justice for individuals – the poor, the injured, the forgotten, the voiceless, the defenseless and the damned, and to protecting the rights of such people from corporate and government oppression. We do not represent government, corporations or large business interests.
While prompt resolution of your legal matter is our goal, our approach is fundamentally different. Our clients are "people" and not "cases" or "files." We take the time to build a relationship with our clients, realizing that only through meaningful interaction can we best serve their needs. In this manner, we have been able to best help those requiring legal representation.