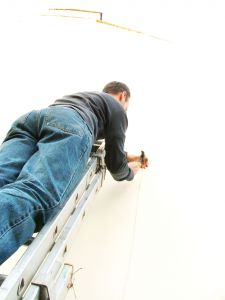 In Umile v. Volpe, So.3d , 38 FLW D410, Florida's 4th District Court of Appeals held that a homeowner may be liable for injuries suffered by an independent contractor hired to perform work in his home.
The holding might appear to clash with this statement of Florida law:
"As a general rule, one who hires an independent contractor is not liable for injuries sustained by that contractor's employees in performing their work." Johnson v. Boca Raton Cmty. Hosp., Inc., 985 So. 2d 593, 595 (Fla. 4th DCA 2008).
It doesn't clash with Florida law.

The court pointed out that
"[l]iability may be imposed if the owner actively participates and controls the manner in which the work is performed, or if the owner performs one or more specific acts of negligence." Ahl v. Stone Sw., Inc., 666 So. 2d 922, 924 (Fla. 1st DCA 1995); see also Conklin v. Cohen, 287 So. 2d 56, 60 (Fla. 1973).
Umile involved disputed facts concerning the homeowner's role in helping the handyman. The handyman claimed that the homeowner was supposed to hold a ladder as he descended from the attic. The homeowner denied the claim. The handyman fell, suffering a severe injury ultimately requiring the amputation of his leg.
The lessons to be learned from Umile and the cases cited therein:
A homeowner's protection against fault is never foolproof. Even if assistance is not rendered, the homeowner has a duty to warn of known latent dangers.
If assistance is rendered, it must be done with reasonable care.
************************************************
Contact us toll free at 866-785-GALE or by email to learn your legal rights.
Jeffrey P. Gale, P.A. is a South Florida based law firm committed to the judicial system and to representing and obtaining justice for individuals – the poor, the injured, the forgotten, the voiceless, the defenseless and the damned, and to protecting the rights of such people from corporate and government oppression. We do not represent government, corporations or large business interests.
While prompt resolution of your legal matter is our goal, our approach is fundamentally different. Our clients are "people" and not "cases" or "files." We take the time to build a relationship with our clients, realizing that only through meaningful interaction can we best serve their needs. In this manner, we have been able to best help those requiring legal representation.