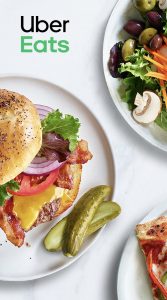 We represent a young man who was severely injured in a roadway accident while making a delivery for Uber Eats. He was struck by a phantom motor vehicle (i.e., unidentified vehicle) while riding his bicycle and left to die by the side of the road. He was discovered and transported to Ryder Trauma Center, where he underwent emergency surgery including a craniotomy. Part of his skull has been permanently replaced by a metal plate.
Uber Eats has denied him all benefits.
Uber claims that its Florida operators are independent contractors. Because true independent contractors are not employees, they are not entitled to Florida workers' compensation benefits (see 440.02(15)(d)). Workers' compensation would cover medical and indemnity (i.e., wages) benefits. Our young client, who was a senior in high school when this event happened, has received neither through Uber, a multi-billion dollar company. Nothing. Zero. Zilch.
Had the accident happened while our client was operating a motor vehicle instead of a bicycle, he might have been able to receive insurance coverage pursuant to Section 627.748(7)(c), Florida Statutes for his economic and human damages (e.g., bodily injury, pain and suffering, disability or physical impairment, and mental anguish). 627.748 is the Florida statute that attempts to set forth the rights and duties of transportation network companies ("TNC") like Uber and its operators. Subsection (7)(c) outlines the types of motor vehicle insurance coverage Uber is required to maintain for operators who are injured while a "driver is engaged in a prearranged ride."
On close reading, however, 627.748 may not apply to our client's situation. The statute speaks in terms of motor vehicles, drivers of motor vehicles, and human passengers. 627.748(1)(b) defines "Rider" as "an individual who uses a digital network to connect with a TNC driver in order to obtain a prearranged ride in the TNC driver's TNC vehicle between points chosen by the rider." Nowhere in 627.748 is there any mention of bicycles, bicycle riders, or food delivery.
It is within the context of motor vehicles, motor vehicle drivers, and riders that 627.748(9) declares that "A TNC driver is an independent contractor and not an employee of the TNC…." None of these elements even closely approximate a bicycle, a bicycle rider, and food.
Not surprisingly, Uber has a fallback position to keep from paying our client workers' compensation benefits. Section 440.02(15)(d), Florida Statutes, which is contained in Chapter 440 of the Florida Statutes, the body of law dealing with workers' compensation, defines what constitutes an independent contractor. Uber has successfully shown the courts that its drivers are independent contractors within the criteria set forth in 440.02(15)(d).
Unfortunately, 440.02(15)(d) leaves less for us to challenge than 627.748. For example, it doesn't matter that our client was operating a bicycle rather than a motor vehicle.
It is beginning to look like our case falls into a gaping black hole between the legislation and case law. Understanding the risks to drivers and benefits they achieve for Uber, the Florida Legislature imposed obligations on Uber to have insurance coverage for them in the event of a crash. This is Florida Statute 627.748. However, because our client was riding a bicycle instead of operating a motor vehicle, he does not qualify for the insurance coverage requirements of the statute. The insurance required for drivers who are harmed by a phantom vehicle (or an uninsured or underinsured motor vehicle) is what is known as Uninsured/Underinsured Motorist Coverage. The catch for our client is that one must be driving a motor vehicle for UM/UIM to come into play.
In the meantime, our fine young client, who is now only twenty years old, is left without the resources to secure important medical care and is not being compensated for his loss of income.
We intend to keep fighting for him.
********************************
Contact us at 305-758-4900 or by email to learn your legal rights.
Jeffrey P. Gale, P.A. is a South Florida based law firm committed to the judicial system and to representing and obtaining justice for individuals – the poor, the injured, the forgotten, the voiceless, the defenseless and the damned, and to protecting the rights of such people from corporate and government oppression. We do not represent government, corporations or large business interests.
While prompt resolution of your legal matter is our goal, our approach is fundamentally different. Our clients are "people" and not "cases" or "files." We take the time to build a relationship with our clients, realizing that only through meaningful interaction can we best serve their needs. In this manner, we have been able to best help those requiring legal representation.