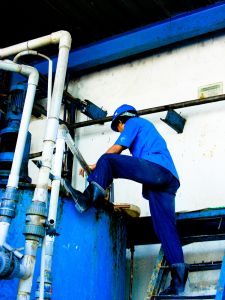 Florida Statute 440.02(1), which is contained in the definitions section of Florida's workers' compensation system, defines "Accident" as "an unexpected or unusual event or result that happens suddenly." Can an injury resulting from an event that is not unexpected or unusual be compensable under Florida's workers' compensation system? Yes.
In Bryant v. David Lawrence Mental Health Center, 672 So.2d 629 (Fla. 1st DCA 1996), the Employee/Claimant, who was employed as a housekeeper at a mental health facility, squatted to lift a bag of laundry off the floor of the laundry room and felt immediate pain in her right knee. She sustained a tear of the lateral meniscus in that knee.
Because squatting is not an unexpected or unusual event, the Employer/Carrier denied the claim, and it was able to get the judge of workers' compensation claims (JCC) to agree with its position that "her [the Claimant's] injury was idiopathic and did not arise out of the claimant's employment because her employment did not expose her to any greater risk than she experiences in her everyday life and to which the population as a whole is exposed." (Miriam-Webster defines idiopathic as an injury "arising spontaneously or from an obscure or unknown case.")
For an injury to be compensable, it must "arise out of" one's employment. Strother v. Morrison Cafeteria, 383 So.2d 623, 624 (Fla.1980). The dispute in Bryant was whether the injury "arose out of" the claimant's employment.
The First District Court of Appeal reversed the JCC's denial of compensability. It found that the JCC mistakenly relied on cases where the injuries were the result of a personal risk such as an idiopathic preexisting condition, Leon County School Board v. Grimes, 631 So.2d 205, 207 (Fla.1989); Acker v. Charles R. Burklew Const., 654 So.2d 1211, 1212 (Fla. 1st DCA 1995); Grenon v. City of Palm Harbor Fire District, 634 So.2d 697, 699 (Fla. 1st DCA), review denied mem., 649 So.2d 233 (Fla.1994), explaining that E/C failed to meet its burden, as required by that line of cases, of presenting competent and substantial evidence of a preexisting idiopathic condition. (Had E/C met its burden, the claimant would then have been forced to establish that the employment exposed her to a risk of injury greater than that which she would normally encounter in non-employment life. Hillsborough County School Board v. Williams, 565 So.2d 852, 854 (Fla. 1st DCA 1990); Market Food Distributors, Inc. v. Levenson, 383 So.2d 726, 727 (Fla. 1st DCA 1980).)
In the absence of evidence of a preexisting idiopathic condition, the claimant need only prove that the injury occurred in the period of her employment, at a place where she would reasonably be, while fulfilling her duties. Hillsborough County School Board v. Williams, 565 So.2d 852, 853-54 (Fla. 1st DCA 1990); Cooper v. Stephens, 470 So.2d 852, 854 (Fla. 1st DCA); petition for review denied mem., 480 So.2d 1296 (Fla.1985). To satisfy the "arising out of" prong of the compensability test, the claimant must show that the injury can be attributed to some event or circumstances connected with his work." Monette v. Manatee Memorial Hospital, 579 So.2d 195, 196 (Fla. 1st DCA 1991). In Gray v. Employers Mut. Liability Ins. Co., 64 So.2d 650, 651 (Fla.1953), claimant's arm injury "arose out of her work" when it occurred as she lifted a can of waffle batter. In Bryant, the claimant satisfied this element by producing evidence that she was squatting to pick up a bag of laundry, performing one of her job duties.
********************************
Contact us at 305-758-4900 or by email to learn your legal rights.
Jeffrey P. Gale, P.A. is a South Florida based law firm committed to the judicial system and to representing and obtaining justice for individuals – the poor, the injured, the forgotten, the voiceless, the defenseless and the damned, and to protecting the rights of such people from corporate and government oppression. We do not represent government, corporations or large business interests.
While prompt resolution of your legal matter is our goal, our approach is fundamentally different. Our clients are "people" and not "cases" or "files." We take the time to build a relationship with our clients, realizing that only through meaningful interaction can we best serve their needs. In this manner, we have been able to best help those requiring legal representation.