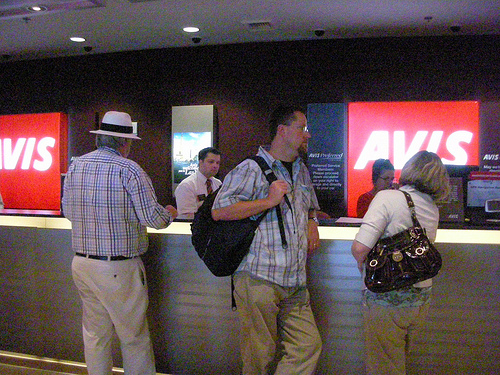 Our law firm (along with co-counsel firm Domnick & Shevin, LLP) is currently involved in litigation against the Enterprise car rental company.
In 2008, Enterprise rented a vehicle, in Miami, to a person whose Florida driver's license was under suspension for failing to appear in court on a number of motor vehicle moving violations. After his credit card was rejected, forcing him to leave the rental agency to obtain cash, he returned with the cash and presented a facially valid (although unlawfully obtained) Texas driver's license to the rental agent. Enterprise rented him the vehicle.
A few days later, the renter caused a high-speed rollover accident in the Enterprise vehicle on I-75 near Gainesville, Florida. Our client, a passenger in the vehicle, was airlifted to Shands Hospital with life-threatening injuries. She remains severely disabled, in great pain, and unable to work.
A quick and inexpensive (less than $1.00) Internet database search, based on name and birth date, performed by the Enterprise agent, would have disclosed the customer's license suspension and traffic record. However, since the agent was not instructed or authorized by Enterprise to perform such a search, one was not done.
We sued Enterprise on the theory that it negligently entrusted its vehicle to the at-fault driver. Enterprise claims that it did nothing wrong.
What is Enterprise's primary defense? Florida Statute 322.38(2).
322.38(2) provides as follows – No person shall rent a motor vehicle to another until he or she has inspected the driver's license of the person to whom the vehicle is to be rented, and compared and verified the signature thereon with the signature of such person written in his or her presence.
Enterprise argues that 322.38(2) is a safe harbor provision providing it with absolute immunity from fault, that despite the ease and nominal cost of determining the prospective customer's license status and driving record, its only responsibility to the public was to inspect the Texas driver's license and compare and verify the signature thereon.
The Plaintiff's (our client) position is that 322.38(2) is not a safe harbor provision extending absolute immunity to Enterprise or any other rental agency. Rather, it is a minimum standard established by the Florida Legislature to create some level of safety for those who travel on the streets and highways of the state, but it is not the only standard that can be considered by judges and juries to determine reasonable conduct under every circumstance.
It is simply not the Legislature's role to instruct companies how to conduct every aspect of their business. Those business decisions are left to the judgment of the companies, with the understanding, however, that poor decisions or worse can result in serious legal consequences.
Such is the scenario in our case. Enterprise did nothing more than the bare minimum. A judge and jury will now decide if this conduct was reasonable under the circumstances. We do not believe that it was, thus our claim for negligent entrustment. Clearly, Enterprise could have done more.

The doctrine of negligent entrustment is a recognized civil cause of action in nearly every state. See Robert M. Howard, The Negligent Commercial Transaction Tort: Imposing Common Law Liability on Merchants for Sales and Leases to "Defective" Customers, 1988 Duke L.J. 755, 759-60 (1988) (citing Douglass v. Hartford Ins. Co., 602 F.2d 934, 936 (10th Cir.1979)). The concept is so well established that it has been codified in the Restatement of Torts.
The doctrine holds responsible those who entrust others with chattels, such as motor vehicles, when the supplier knows or should know that the user, because of his character, behavior, past acts, or otherwise, may use it in a manner involving unreasonable risk of physical harm to himself and others.
322.38(2) does not abrogate the doctrine.
It is unlawful for any person whose driver's license has been suspended to operate a vehicle upon the streets and highways of Florida. Section 322.34. Moreover, any vehicle owner who knowingly allows a person with a suspended license to operate his/her vehicle in Florida commits a misdemeanor of the second degree. Section 322.36.
Accordingly, it was unlawful for Enterprise's customer to operate any vehicle in Florida at the time of the crash. We do believe that had Enterprise known about the suspended Florida driver's license, it would not have rented the vehicle to this customer.
Which brings us to the crux of our case: why didn't Enterprise know?
In our view, the answer is simple: it did not want to know.
Sadly, our case is not the exception. To this day, Enterprise does not require license status or driving history Internet searches of people who rent vehicles in Florida.
Instead, its policy remains one of willful ignorance.
We are confident of establishing that 322.38(2) is not a shield that protects rental agencies operating in Florida from having to behave responsibly for the health, safety, and welfare of others.
February, 2013 update: in December, 2012, the trial court granted Enterprise's Motion for Summary Judgment with prejudice. We have filed our Notice of Appeal. Stay tuned.
This blog has generated a tremendous amount of interest not only in Florida but also throughout the country. I have been contacted by victims with sad stories, lawyers, and even a law enforcement officer who, because of his practical experiences, was angered by the protection afforded to rental car agencies by The Graves Amendment. He wished us every success in our civil lawsuit.
****************************************
Here is a real-life example of what will happen if the courts decide that the law is a safe-harbor. I received this email from a lady on May 14, 2011, whose lawyer declined the case because he believes that the law provides a safe-harbor to the insurance company. Our law firm is investigating the case for her and her husband.
My husband was severely injured by a tourist whom rented a vehicle through Alamo. My husband has suffered Traumatic Brain Injury and I'm told nothing we can do about it. Florida Law states that a tourist from another country is not held liable to purchase or show proof of insurance, just a license from his country. And that Alamo rental is also protected from lawsuits by the same law. My husband has a long way to recovery with speech and physical therapy. We've lost our income, his job, insurance, our entire lives has been interrupted and we're suffering as a result of this severe accident and injury. And the tourist got to go home and pick up where he left off. He got a free card from our State to get away with all the damage he's caused. The tourist failed to stop at a red light, he didn't understand our traffic system.
******************************************
Jeffrey P. Gale, P.A. is a South Florida based law firm committed to the judicial system and to representing and obtaining justice for individuals – the poor, the injured, the forgotten, the voiceless, the defenseless and the damned, and to protecting the rights of such people from corporate and government oppression. We do not represent government, corporations or large business interests.
Contact us today for a free, confidential consultation to discuss your important legal mater.