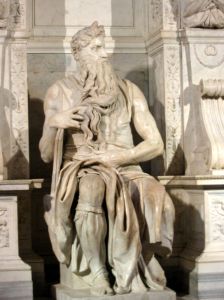 The Republican Establishment has chosen Willard Mitt Romney to lead its people to The Promised Land. It points to his success in making large sums of money as the primary qualifying factor for the selection.
G-d chose Moses to lead the Jews to their Promised Land. Interestingly, what persuaded G-d to select Moses was his compassion more than his accomplishments.
The Book of Exodus tells us that Moses was rescued from the Nile River as an infant and raised by the Pharoah's daughter. One day he witnessed an Egyptian beating a Jew. He killed the Egyptian. Later he intervened in a fight between two Jews, the circumstances of which forced him to flee Egypt. While in the desert, he saved the seven daughters of Jethro from evil shepherds.
These acts showed perseverance, courage and fortitude. This was not enough for G-d.
Continue reading