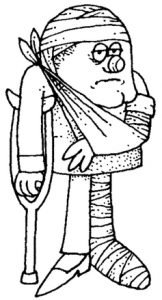 Florida's workers' compensation statute of limitations, Section 440.19 Florida Statutes, is not the only time bar to bringing a workers' compensation claim. Section 440.185(1) time bars a claim not reported to the employer "within 30 days after the date of or initial manifestation of the injury." The statute contains four exceptions:
(a) The employer or the employer's agent had actual knowledge of the injury;

(b) The cause of the injury could not be identified without a medical opinion and the employee advised the employer within 30 days after obtaining a medical opinion indicating that the injury arose out of and in the course of employment;

(c) The employer did not put its employees on notice of the requirements of this section by posting notice pursuant to s. 440.055; or

(d) Exceptional circumstances, outside the scope of paragraph (a) or paragraph (b) justify such failure.
Notice and Knowledge
Gregory v. Crum Staffing. The First District Court of Appeal ruled on the issues of reporting and actual knowledge. A supervisor witnessed the accident, heard the claimant say "something regarding an injury," although not specifically about a shoulder injury, and knew he went to a doctor less than 30 days after the accident. The Judge of Compensation Claims (JCC) ruled against the claimant, concluding that the statute required "actual knowledge of the injury to be communicated . . . to the employer within thirty days." The JCC's decision was reversed on appeal. The 1st DCA decided that the reporting requirement of 440.185(1) was satisfied, observing that 440.185(1) does not contain an "actual knowledge" provision like the subsection (a) exception. The court did not stop there. It also held that the employer had "actual knowledge of the injury," explaining as follows:
the notice required to satisfy the knowledge exception to the thirty-day rule need not detail every facet of the injury sustained. Rather, it is sufficient that the employer have notice of an injury. See Alfonso v. MacDinton's Rest., 515 So. 2d 243 (Fla. 1st DCA 1987); see also Roseboom v. H.T. Constructors, Inc., 527 So. 2d 234 (Fla. 1st DCA 1988); Winter Park Mem'l Hosp. v. Brown, 452 So. 2d 116 (Fla. 1st DCA 1984).
Alfonso v. Mac Dinton's Restaurant, 515 So.2d 243 (Fla. 1st DCA 1987). Employee slipped and fell on her buttocks. More than five weeks later she reported back pain to her employer for the first time. Later that day she was admitted to the hospital for a back injury. The back claim was denied for late reporting. At trial, one of her employers admitted hearing claimant exclaim from the freezer in which the injury occurred that she had hit her arm on the freezer's rack. The employer further indicated that he asked claimant if she was all right and that she replied she thought so. The DCA held in favor of the claimant.